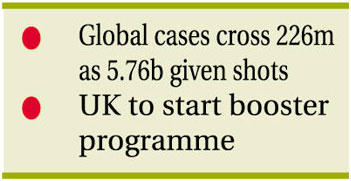 An expert review of scientific evidence to date has concluded that Covid-19 vaccine booster shots are not needed at this time for the general public, a group of leading US and international scientists said Monday in the peer-reviewed journal The Lancet, according to a report published on https://www.cnbc.com
The conclusion by scientists, including two senior Food and Drug Administration officials and the World Health Organization, came as studies continue to show the authorized Covid vaccines in the US remain highly effective against severe disease and hospitalization caused by the fast-spreading delta variant, report agencies.
While Covid vaccine effectiveness against mild disease may wane over time, protection against severe disease may persist, the scientists said.
That's because the body's immune system is complex, they said, and has other defenses besides antibodies that may protect someone from getting seriously sick.
"Current evidence does not, therefore, appear to show a need for boosting in the general population, in which efficacy against severe disease remains high," the scientists wrote, adding the wide distribution of boosters is "not appropriate at this stage in the pandemic."
They acknowledged that booster shots may eventually be needed for the general population if vaccine-induced immunity wanes even further or a new variant emerges that can evade the protection of the shots.
They said there are risks to distributing boosters too soon, including the potential for side effects such as a rare heart inflammation condition known as myocarditis, which is more common after the second dose of mRNA vaccines.
"If unnecessary boosting causes significant adverse reactions, there could be implications for vaccine acceptance that go beyond COVID-19 vaccines," they wrote. Shares of Covid vaccine maker BioNTech were down more than 5% in intraday trading.
Meanwhile, reports from agencies adds: The pandemic still continues to devastate many countries across the world. In fact, the global Covid-19 caseload has now topped 226 million.
The total caseload and fatalities from the virus stand at 226,273,704 and 4,655,899 respectively, as of Tuesday evening, according to Worldometers.
More than 5.76 billion doses have been administered across 184 countries, according to data collected by Bloomberg. It is enough to fully vaccinate 37.5 per cent of the global population
The latest rate was roughly 33.6 million doses a day.
Report from London adds: Frontline health and social care workers, older people and the clinically vulnerable in Britain will start to receive a booster jab against Covid 19 from next week, the government said on Tuesday.
Health minister Sajid Javid told parliament he had approved a recommendation from advisory body the Joint Committee on Vaccination and Immunisation (JCVI) to start the programme.
He also approved a controversial proposal to offer jabs to children aged 12-15 as concern mounts about the spread of the virus in schools.
JCVI chairman Wei Shen Lim earlier said the programme would be introduced to provide extra protection as the winter months approach.
Covid infection rates remain stubbornly high in Britain, despite a mass vaccination programme that has seen some 81 percent of all adults receive two doses of a vaccine.
And there remains concern that as the weather turns colder and social mixing increases indoors, Covid and other respiratory diseases such as seasonal flu will run rampant.
Another report adds: The US has logged 41,213,908 cases and 662,016 deaths to date, according to the JHU data.
Brazil which has the world's second-highest pandemic death toll after the United States and the third-largest caseload after the United States and India, recorded 21,006,424 cases with 587,066 fatalities as of Sunday.
India's Covid-19 tally rose to 33,264,175 on Monday, as 27,254 new cases were registered in 24 hours across the country, as per the federal health ministry's data.
Besides, as many as 219 deaths due to the pandemic were reported since Sunday morning, taking the total death toll to 442,874.
Most of the new cases and deaths were reported from the southern state of Kerala.