---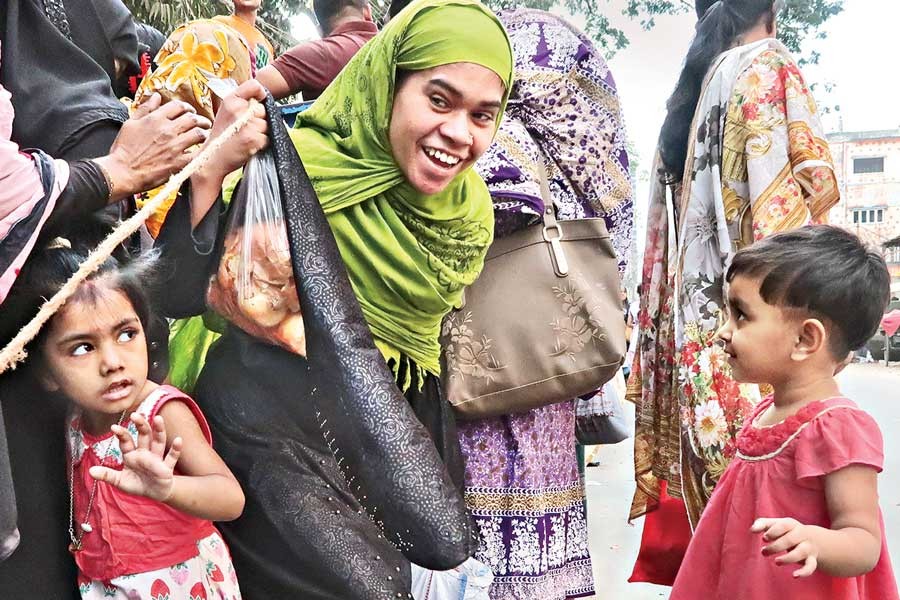 A woman is all smiles as she managed to buy onion from a TCB-run sales point at Azimpur in the city on Monday — FE photo by Shafiqul Alam
The prices of onion -- both local and imported varieties -- still remain high at retail level despite import of the spice by the government and private sector.
While visiting different kitchen markets in the city on Monday, the FE correspondent found that local onion was selling at Tk 220-Tk 230 per kilogram while the variety of onion imported mainly from Myanmar and Egypt at Tk 160-Tk 200 a kg.
"The price of onion is still high. We can't afford to buy onion at higher rate. So, we urge the government to control its price," Md Billal Hossain, a private service-holder, told the FE at Shantinagar kitchen market.
However, local variety of onion was sold at Tk 200-Tk 210 while imported ones at Tk 130-160 a kg at Shyambazar wholesale market on the day.
"We hope that the prices of onion will come down once the local variety of onion arrives in the market after few days," a salesman named Jasim of Khorshed Alam Traders at Shyambazar told the FE.
Meanwhile, many city dwellers stood in long queues to purchase onion from trucks, authorised by the Trading Corporation of Bangladesh (TCB), at different points in the capital on the day.
The state-run agency was selling onion at a subsidised rate of Tk 45 a kg aiming to cool down the overheated onion market.
Visiting different areas including Motijheel, Jatrabari, Jigatola, and Hazaribagh, the FE correspondent found that a large number of consumers were waiting in long queues to purchase onion.
"I waited in the queue for nearly one and a half hours to purchase one kilogram of onion," Bilkis Begum, a housewife who resides in Motijheel area, told the FE in front of a sale centre near Ideal High School.
Some customers claimed that rotten onion was also being sold by some TCB dealers.
A dealer in Jatrabari area turned down the claims, saying that they get an allocation of 1,006kg of onion from TCB per day.
He was selling 1,100 grams of onion to each consumer/customer at Tk 50.
Consumers, however, said the size of onion, imported from Egypt, is bigger than that of local varieties. Local onion also tastes better than imported ones, they added.
talhabinhabib@yahoo.com