---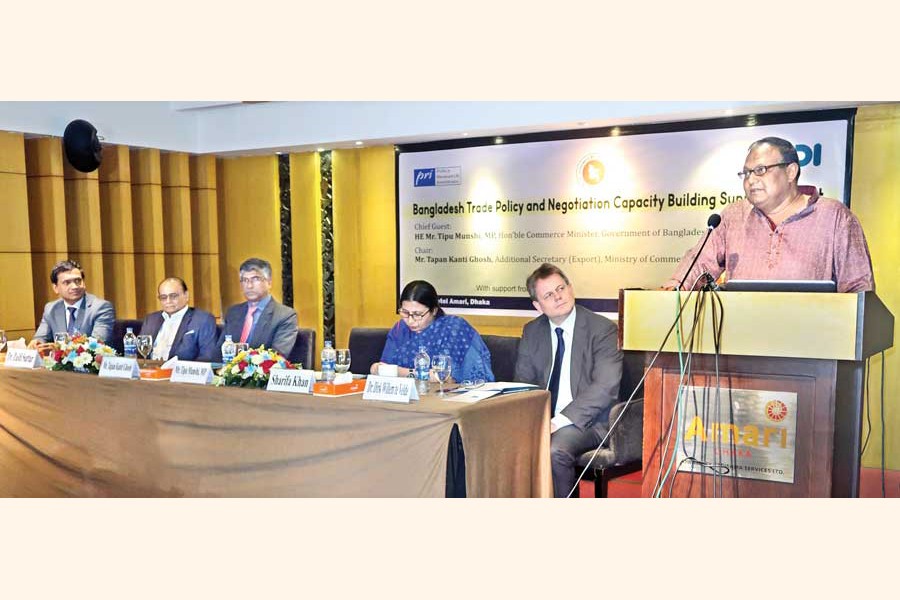 Commerce Minister Tipu Munshi speaking at the inaugural ceremony of the "Bangladesh Trade Policy and Negotiation Capacity Building Support Project" at a city hotel on Sunday. Policy Research Institute of Bangladesh (PRI) Chairman Dr Zaidi Sattar (2nd, left), its Director Dr. M. A. Razzaque (extreme left), Additional Secretary (Export) of the Ministry of Commerce Tapan Kanti Ghosh (3rd, left), Additional Secretary of the ministry Sharifa Khan (2nd, right) and Team Leader, ODI-PRI Consortium Dr Dirk Willem te Velde (extreme right) are also seen — FE photo

Commerce minister Tipu Munshi on Sunday said the country needs to be prepared for the post-2024 challenges following graduation from the least developed country, or LDC, status.
"We will graduate from the LDC status in 2024, there will be problems and challenges, we need to prepare our people for the challenges," he said.
He was speaking at the inaugural ceremony of the "Bangladesh Trade Policy and Negotiation Capacity Building Support Project" at a city hotel.
The ministry of commerce, in collaboration with the Overseas Development Institute (ODI) of the UK and the Policy Research Institute of Bangladesh (PRI) under the financial support of the Trade and Advocacy Fund (TAF2+) of UKaid, initiated the capacity building project for the government officials of Bangladesh.
The project aims to provide training on trade policy and negotiation skills and conduct analytical studies on the upcoming challenges of trade.
Speaking at the programme, the commerce minister said Bangladesh has set its export target of $60 billion by 2021 and it is possible to attain through new products and value addition alongside the market diversification.
He said Bangladesh cannot ensure sustainable development without skilled manpower.
"We need to develop skill manpower in both the public and private sector to attain $60 billion export target," he said.
PRI chairman Dr Zaidi Sattar said trade is a complex issue and there are many complex aspects in trade negotiations.
"Bureaucrats should have basic idea about trade negotiations," he said.
He found policy problems to be the reason for the single product dependence on exports.
"It is not that our products lack competitiveness-we have enough products to be competitive in the global market, the problem lies with policy formulation," he said.
Additional secretary (Export) of the Ministry of Commerce Tapan Kanti Ghosh said the country needs to secure preferential treatment they get in different markets.
He said the country and its bureaucracies lack skills in trade negotiations.
He expressed the hope that junior officials in the bureaucracy will be trained under the project.
Team Leader, ODI - PRI Consortium Dr Dirk Willem te Velde presented a paper on the project background, work plan and way forward.
The project will provide a comprehensive capacity building programme concerning international trade negotiations that will enable Bangladesh to transition its trade policy base to address the new and emerging challenges it faces.
The main objective of the project is to build capacity within the ministries responsible for trade policy, including the ministry of commerce, the ministry of foreign affairs, and other relevant government ministries and agencies involved in international trade negotiations and agreements.
To achieve this, ODI and PRI will produce 12 technical studies, design and implement 10 training courses, as well as four five-day, cross-country, peer-learning exchanges and activities to institutionalise and sustain knowledge acquired within the relevant ministries and departments.