---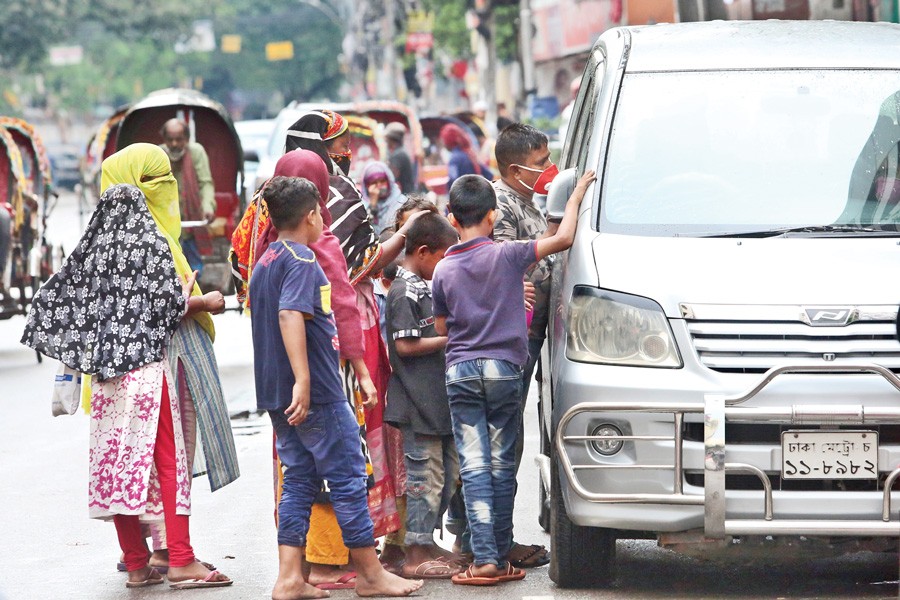 Poor people pleading for alms at Bailey Road in the city on Friday — FE photo
Detached from income sources due to the coronavirus pandemic, many poverty-stricken people in Dhaka city have turned beggars as part of a survival strategy.
For the last one month and a half, their numbers have multiplied in this trying time.
They can be seen asking for alms everywhere in marketplace and in residential areas, in their desperation to live.
The sheer number of beggars in Dhaka's streets shows the gravity of the situation on how joblessness affects people's livelihoods in Bangladesh, experts said.
Aklima Akter (27), a part-time housemaid and a mother of two, was seen asking for money in front of a shopping mall in Bailey Road on Thursday.
Asked about the reason of begging, she said: "I was working in two households in Shantinagar area but the householders dismissed me late March."
"How would I pay rent or eat if I have no money," she lamented her fate.
She said her husband was in Lebanon but sent home a month ago without money.
Meanwhile, several children aged five to 12 were seen asking for money from a female shopper as she came out of Twin Towers Concord Shopping Complex in Shantinagar.
Sumon, oldest and tallest among them, told the FE that they live under the nearby flyover and usually work as scrap plastic and paper collectors.
At Mohanagar Housing Project in Rampura, beggars are usually seen waiting in queues at the entrances into mosques during Friday's Juma prayers.
"Flocking in groups or alone, they now ask for money or food by ringing the calling bells of flats every day," said Anisur Rahman, a Rampura resident.
However, long before the ongoing pandemic, the number of beggars in Dhaka was rising amid an economic shift of the country and a gradual fall in poverty rate.
A study styled 'Aged Street Beggars in Dhaka City' published in late 2019 by Prof Abdus Sattar of East West University and Md Julio Gazi of North South University estimated 700,000 beggars in Bangladesh.
Of the panhandlers, the study revealed, 40,000 alone are active in Dhaka.
It also stated that the daily income of a disabled beggar in Dhaka is higher than the international poverty line mark of $1.25.
Begging is an offence as per the law of the land. It carries minimum punishment of three years in jail and maximum seven years, to be doubled for a repetition.
Meanwhile, due to job losses, many people have also changed their professions hit hard by the coronavirus lockdown now in force since March 26.
Al Amin (his given name), a former microbus driver for a city school, now pulls a rickshaw to feed his family.
In a conversation with the FE, he said: "I can't sit idle in fear of virus. Unless I earn, my parents, kids and wife will starve in Faridpur."
Although his earnings have come down below half, it is better than nothing, he added. "Beggars are earning more than me now but I can't come down than far."
According to the South Asian Network on Economic Modeling (SANEM), 36 million non-poor people, apart from 34 million poor people, may fall into poverty trap if COVID-19 persists for three more months.
The figure, however, supports the increased number of beggars in the city's streets and neighbourhoods.
SANEM executive director Selim Raihan said the 36-million people are 'non-poor' but can be categorised as the vulnerable population if the crisis continues.
Due to a negative income shock of 25 per cent people in the country, the overall poverty rate will rise to 40.9 per cent.
This means another 20.4 per cent population may fall into poverty, sweeping away years of achievements in poverty alleviation, Mr Raihan said.
According to the Bangladesh Bureau of Statistics, the poverty rate here came down to 20.5 per cent in fiscal year 2018-19 from 21.8 per cent in 2017-18.
Even extreme poverty rate also dropped to 10.5 per cent last fiscal from 11.3 per cent.