Country's leading economists at a discussion on Saturday suggested prioritisation of development indicators that would cover majority of the population and get more attention.
They also stressed the need for more coordination and discussion for taking a holistic development approach.
Local think-tank Power and Participation Research Centre (PPRC) organised the virtual discussion, which was the second episode of its new discussion series.
Dr. Hossain Zillur Rahman, executive chairman at the PPRC, moderated the episode, styled: "The Politics of Development Indicators."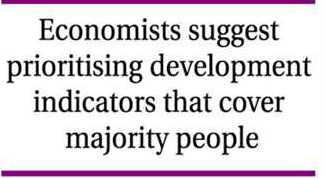 Taking part in the discussion, the economists said the powerful and vested interest groups push their agenda and implement their own development indicators, which are not actually development for all.
They added that the politicians and policymakers sometime manipulate indicators and take the path of "tokenism" by developing few areas of the indicators to show an overall development that does not reflect the real development for all.
They emphasised on reaching a 'national consensus' over the prioritisation of development indicators.
"Not all the indicators are equally important for all. So, we should split and prioritise the development agenda and work on the most important indicators for the real development," economist and former lead private sector specialist at the World Bank Dr. Akhtar Mahmood told the meeting.
"We are eager in the numbers or indicators of the development rather than real development," he said, speaking as a panelist.
For example, he said, land registration is one of the indexes in the ease of doing business and Bangladesh is lagging behind in the area. "But, does it really important for small businesses?" he posed the question.
He added that the policymakers are more interested in developing an index which may push overall index up and look good. "These areas need serious discussion."
Professor at the Catholic University of USA Dr. Adnan Morshed said indicators are being fixed and implemented based on power groups' agenda. There should be multidisciplinary discussions over the prioritization of development index, he added.
Country director of ActionAid Bangladesh Farah Kabir said some development indexes should be kept as universal and global. "We can hide always behind nationalism or ethnicity for not implementing some development agendas," she said.
She pointed out that the vested interest groups always influence political actors to implement their agenda.
Summing up the discussion, Dr. Hossain Zillur Rahman said there must be some tradeoffs among the development indicators for balanced development for all.
He said the power groups always participate in the policy-making process.
He said the bigger businesses got the major share of the stimulus packages announced by the government to cover losses of the Covid-19 pandemic. "But, they are not the ones who needed the money most," he added.