---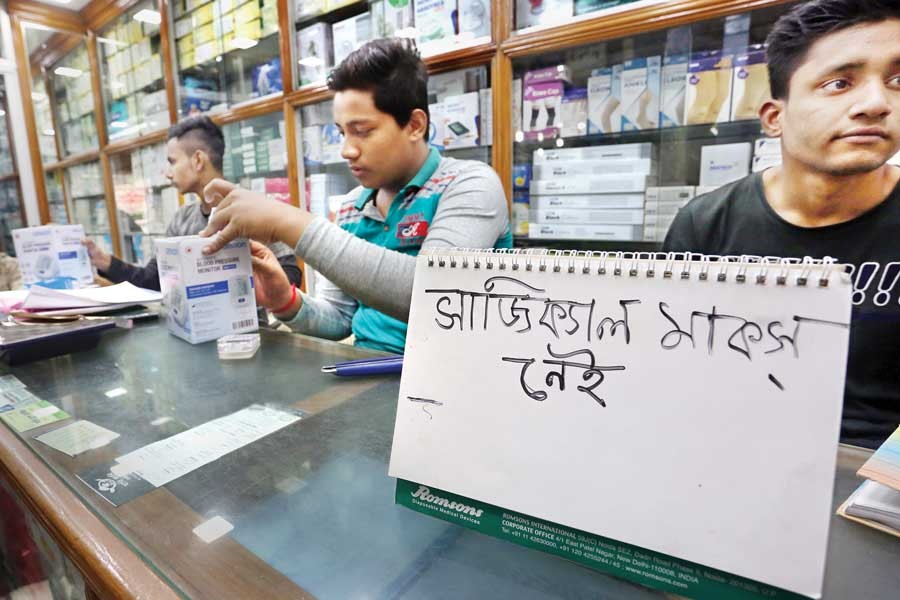 A shop at Topkhana Road in the city displays the 'No surgical masks available' sign on Thursday following scarcity of the item in the wake of coronavirus outbreak in China — FE photo
The prices of various disposable medical instruments have been showing an upward trend for past two weeks due to decline in their shipment from China as an effect of lethal Coronavirus outbreak.
Import of these medical instruments and devices is being interrupted following a pause in opening letters of credit (LCs) with banks, said importers and traders of several surgical equipment markets in the city.
They said the prices of disposable medical items, which are used on daily basis in hospitals, clinics and diagnostic centres as well as by general people, have soared by 5.0 per cent to 20 per cent, varying products.
Meanwhile, the prices of disposable surgical masks have seen the biggest jump, as panic-driven people have been buying these products for the last couple of weeks to stay safe from Coronavirus infection, known as COVID-19.
Md Towhidul Islam Talukder, secretary of BMA Bhaban Dokan Malik Kallyan Samity in the capital's Topkhana Road area, said Bangladesh is fully dependent on China for import of disposable medical instruments, as the country meets around 95 per cent of their local demand.
"Opening of LCs to import medical equipments, devices and disposable items from China has stopped since mid-January, which has created sudden shortfall in supply of such products in wholesale markets."
Mr Talukder, also proprietor of Padma Medical Services at Gaffur Tower Surgical Market, told the FE on Thursday that if the Coronavirus outbreak in China continues for more than 10 to 15 days, the country's medical equipment market may experience a turbulent period.
Prices of products like bouffant caps, shoe cover, medical clothing, test strips, surgical gauze and sponges, surgical gloves, bed sheet, lab test instruments, and diagnostic reagents etc have seen sharp rise.
The trader and importer, however, noted that the prices of medical devices and machinery are still unaffected, as the demand for such products does not fluctuate within a week.
Sharif Uddin Ahmed, president of Bangladesh Medical Instrument and Hospital Equipment Dealers and Manufacturers Association, said production of various medical components in Chinese factories has stopped due to weeklong holiday, marking the country's lunar new year.
At the same time, Coronavirus infection reached epidemic level that extended shutdown of the factories.
"The gap in demand and production as well as reduced sea transportation fearing spread of the virus triggered price hike of some medical products here, especially the disposable ones."
Referring to the unusual price hike of surgical masks, Mr Ahmed said, "As masks are unavailable in international market, the government recently held meeting with local manufacturers to increase their production."
Three companies in the country manufacture surgical masks. The companies are - RFL Group, Heal First Surgical, and Barisal Surgical Ltd.
Besides, the factories in China have started to open. If the spread of the disease comes under control, export-import with the country will resume, and the banks will start opening LCs concurrently.
He also named India, Japan and Turkey as alternative sources to import disposable medical products, although India has recently stopped exporting face masks.
Meanwhile, Mahtab Uddin, proprietor of Modern Surgical Mart at Azmiri Complex in Topkhana Road area, said the price of per carton (2,000 to 2,200 pieces) surgical masks in the wholesale markets of Nababpur in Old Dhaka has increased to around Tk 50,000 on Wednesday from the usual price of Tk 1,800 to Tk 2,000.
Visiting several markets and makeshift footpath shops in the city on Thursday, the FE correspondent observed that disposable surgical masks were selling at Tk 20 per piece, while other types of masks were selling at prices from Tk 35 to Tk 120 per piece, according to qualities.
Globally, Coronavirus has infected more than 60,000 people, mostly in mainland China, while at least 25 other countries have confirmed cases of infection.
The death toll due to its infection reached about 1,355 in China. Only two deaths have recorded outside the country, in Hong Kong and the Philippines.
The outbreak is thought to have originated in late December from an illegal wildlife market in Wuhan, the capital of Hubei province in China.