---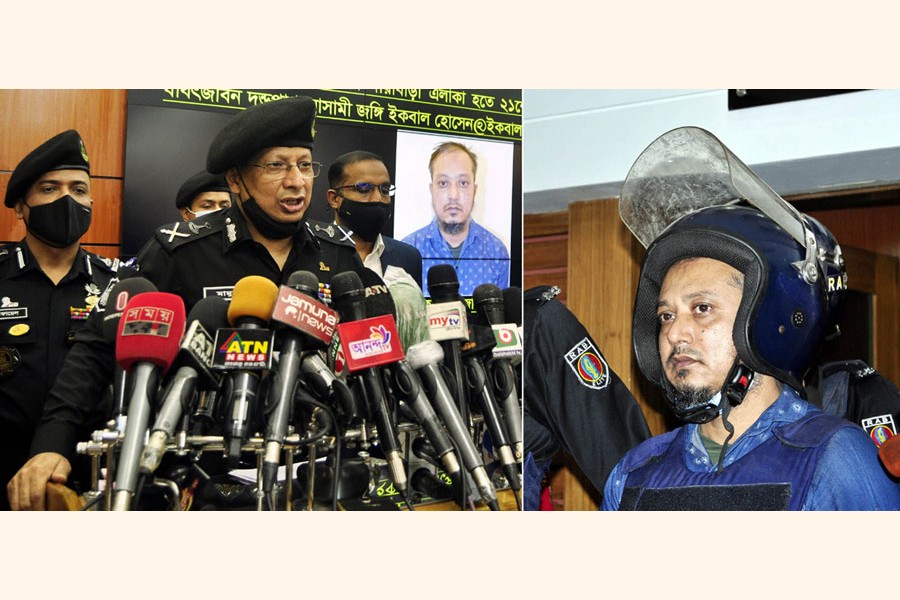 Director General of Rapid Action Battalion Chowdhury Abdullah Al Mamun speaking at a briefing at its media centre in city's Karwan Bazar on Tuesday after the elite crime busting force arrested a convicted fugitive in the August 21, 2004 grenade attack case — Focus Bangla
Iqbal Hossain, a former member of BNP's student front Jatiyatabadi Chhatra Dal (JCD), threw a grenade targeting the stage, the Rapid Action Battalion (RAB) said following the arrest of the fugitive sentenced to life imprisonment in connection with the gruesome 2004 grenade attack on an Awami League rally, reports bdnews24.com.
Iqbal alias 'Jahangir' alias 'Selim' had taken into custody after a raid in the Diabari area of the capital around 3 am on Tuesday, RAB's Director-General Chowdhury Abdullah Al Mamun said on Tuesday during a media briefing at the elite force's media centre in Karwan Bazar.
The RAB raided the area based on the information given by the National Security Intelligence.
"Iqbal was found on the street," Mamun said.
"He had served as a representative of JCD on the student council at Govt KC College in Jhenaidah in 1994. He went to Malaysia after passing the HSC exams and lived there as a migrant worker from 1995 to 1998," he added.
Earlier, Iqbal launched a small business after returning to Bangladesh and later joined banned militant outfit Harkat-ul Jihad al-Islami Bangladesh (HuJI-B) in 2001.
---
---
---
---