---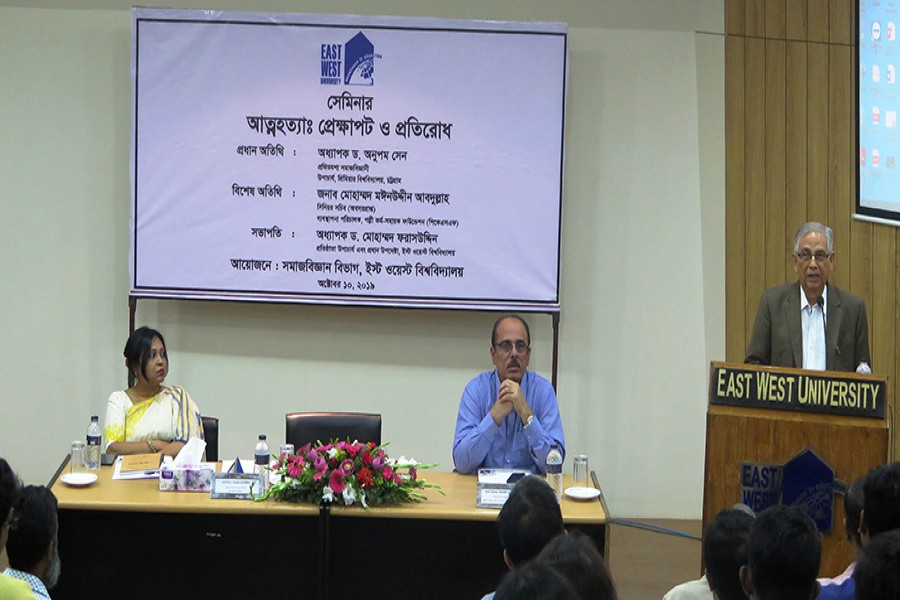 East West University chief adviser Dr Mohammed Farashuddin speaking at a seminar on 'Suicide: Context and Prevention' organised by Sociology Department of the university on its campus in the city's Aftabnagar on Thursday — FE photo
Recognising suicide as a public-health issue, the government alongside various agencies and educational institutions should campaign to help prevent such needless deaths, speakers said on Thursday.
They called for conducting a study in the local context, monitoring suicidal tendencies and introducing a system to collect data on suicide and attempted suicide.
The observations were made at a seminar styled 'Suicide: Context and Prevention' hosted by Sociology Department of East West University (EWD) on its Aftabnagar campus.
The seminar was part of the observance of World Mental Health Day-2019 that focused on suicide prevention this year.
EWD chief adviser Prof Dr Mohammed Farashuddin chaired the event where Palli Karma-Sahayak Foundation managing director Mohammad Moinuddin Abdullah and Society for Voluntary Activities executive director Zahidul Islam spoke.
Brighter Tomorrow Foundation president Shipra Zaman Joyashree and EWD Sociology Department assistant professor Dr Anisur Rahman Khan also addressed the event.
In his speech, Mr Farashuddin said despite increasing suicidal trends in the country, the issue is quite underreported for socio-cultural reasons.
Mass awareness should be raised countrywide in a collaborative way through partnership among government bodies, non-governmental organisations and educational institutions, he added.
Besides, there is a tendency to establish murder as suicide to get rid of murder charges by unscrupulous quarters which should be prevented too.
Ms Joyashree said it is very unfortunate that suicide has not yet been recognised as a public-health concern.
The government has done nothing remarkable to stop such deaths despite the passage of a law that addresses mental health.
Citing that suicides are recorded as unnatural deaths and attempted suicides are seldom recorded, Mrs Joyashree said.
"Without proper data, how can you understand the mental state of the country, where to prioritise and how to formulate policies?" In his presentation, Mr Zahidul said although suicidal trend is more among males in the developed world, two-thirds of the suicide are committed by females in Bangladesh.
Family and marital discord, physical and mental torture, child marriage, dowry, sexual harassment, negligence, unemployment, failure in love, loss in business, indebtedness and excessive sentimentality mainly act behind suicide.
Suicide remains a preventable global phenomenon that claims nearly 800,000 lives annually across the world.
It is roughly estimated that more than 10,000 people die due to suicide in Bangladesh every year.
Mr Zahidul said the rate of suicide is estimated to be several folds higher in rural than urban areas in Bangladesh.
Families of individuals who die by suicide or attempt suicide tend not to report suicidal news in order to avoid cultural and social stigmatisation.
Despite the severity of suicide and it being a criminal offense, the country offers no national suicide surveillance system or monitoring mechanism.
ahb_mcj2009@yahoo.com