---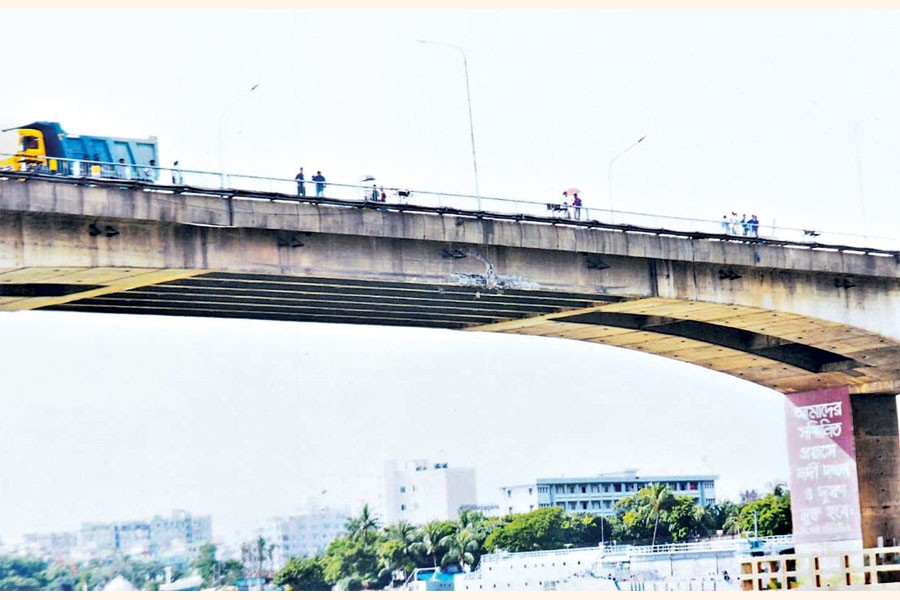 The Buriganga Bridge at Dhaka's Postogola was hit by a salvage ship on Monday — FE photo
While going to rescue a launch capsized in the Buriganga on Monday morning, a salvage ship rather caused another accident by hitting Postogola bridge in the evening.
Due to damage to one side of the first Bangladesh-China Friendship Bridge or Postogola bridge, traffic is suspended on two lanes of the four-lane bridge road.
Officials said a team of Roads and Highways Department (RHD) visited the spot soon after the accident around 2:30 pm and restricted traffic to avert further damage.
The bridge was built in 1989. The rescue ship was going to salvage the launch which sank after being hit by another launch in Buriganga in the morning with passengers.
Thirty bodies were recovered from the river.
"An RHD expert team will visit the spot tomorrow (Tuesday) to assess the scale of damage to the bridge," said additional chief engineer of Dhaka zone Mohammad Sabuj Uddin Khan. Initially, vehicular movement on the damaged site has been suspended, he told the FE.
Mr Khan said one side of the girder got damaged at several points after the ship tried to pass beneath the bridge, ignoring the level of navigation. Girder is the structure that holds the bridge column on a strong footing. So, its damage may pose a threat to the bridge's foundation, he added.
The salvage ship was going to Farashganj side from Narayanganj to rescue the sunken ship but could not reach the spot. Its height did not permit to cross the bridge finally.
The bridge is connected with Dhaka-Narayanganj road, linking south and south-western districts through Dhaka-Mawa road.
---
---
---
---