Some China-funded projects worth several billion dollars cannot be implemented in time for delays in land acquisition, design change and the pandemic problem.
Such drawbacks were discussed in a high-level meeting that reviewed the progress of six crucial projects being funded and implemented by China, sources told the FE.
The projects include Construction of tunnel under the Karnaphuli River, Dasherkandi waste-treatment plant and installation of Single Point Mooring.
Two power-transmission projects and another digital connectivity project also get slower for similar reasons, officials said.
The Dasherkandi treatment-plant project has faced headwind since the beginning as the implementing agencies got objection from the Power Grid Company of Bangladesh and Titas Gas Company while initiating the project.
The project aims to ensure clean water for the residents of a large part of the capital city, including Dhanmondi, Gulshan, Tejgaon, Bashundhara, Banani, Baridhara and Mahakhali, through water treatment in Hatirjheel reservoir, and to make the Balu River pollution-free.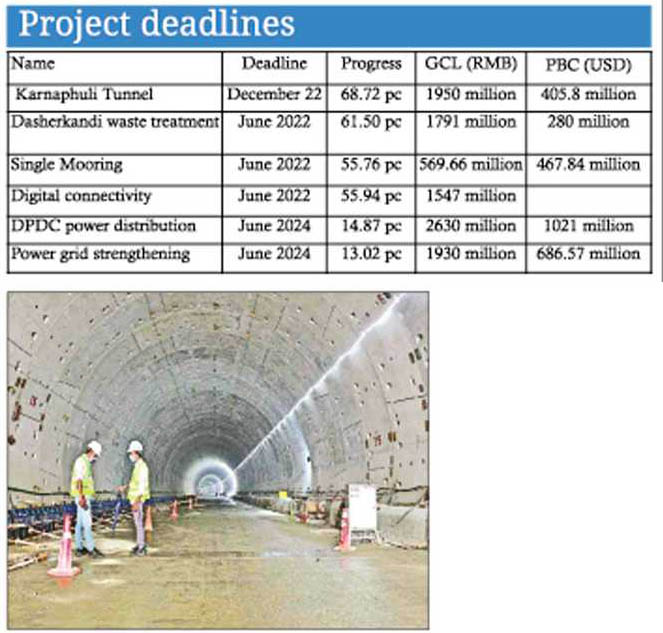 China is providing 280 million US dollars as concessional loan for this project, and its financial progress is 61.50 per cent.
It is scheduled to complete in June 2022, but as the project cannot be implemented in due time, the government in letter to China Exim Bank to defer the deadline.
The single-mooring project is taken up for ensuring efficient supply of imported oils through a 220-km-long pipeline of which 146 kms are undersea.
China is providing 569.66 million Yuan as concessional loan and 467 million US dollars as buyer's credit.
According to the review, this project is also delayed and the implementing agency, Bangladesh Petroleum Corporation, seeks one-year extension of the loan-agreement tenure.
They cited that land acquisition in Anwara and Maheshkhali areas could not be completed yet.
"Besides, delay in shipment due to Covid is also responsible for the project lagging behind with a financial progress rate of 55.76 per cent," says one official.
The Karnaphuli Tunnel project also falls back and the Chinese company sought one-year extension, project officials said. However, Bangladesh side is learnt to have demurred, as it is considered one of the landmarks in government's undertakings for communications-infrastructure development.
The financial progress rate of the project is 68.72 per cent
China is providing 1950 million Yuan as concessional loan and 405 million US dollars as buyer's credit for the project which is scheduled to be over by December 2022.
"The authorities now plan to build five underpasses which were not included in the original design, causing a cost escalation of 12 million US dollars," says one of the sources.