Green papaya, once a cheap vegetable, has now turned so expensive, making it difficult for the poor to source this nutrition-rich item.
Papaya price hit an all-time high of 110 a kg in the third week of April from Tk 50-55, marking a 100-per cent hike, said the Department of Agricultural Marketing (DAM).
Between fiscal year (FY) 2019-20 and FY22, its retail price was recorded at Tk 30-60 a kg in Dhaka city as per DAM records.
But the price has climbed to a maximum of Tk 110 this fiscal.
Papaya, however, sold at Tk 60-80 a kg on Friday in different city areas amid poor supply.
"Papaya price shot up to Tk 350-380 per palla (five kg) in the third week of April. It's unbelievable. I haven't seen such a hike in papaya price in my 10-year business," said Amir Azam, a Rayerbazar vendor.
He said the price still remained at Tk 240 for five kg in the Rayerbazar-Beribandh wholesale market amid this peak harvesting time.
"Papaya prices have remained at Tk 90-100 in peak seasons and at Tk 160-170 in flooding seasons for the last four years."
Mr Azam said, "Vendors earlier made a good profit while consumers also could source papaya at cheaper rates, but things have changed in recent months."
Sector insiders said rising demand amid poor production of papaya is the key reason behind such an unusual rise in its prices.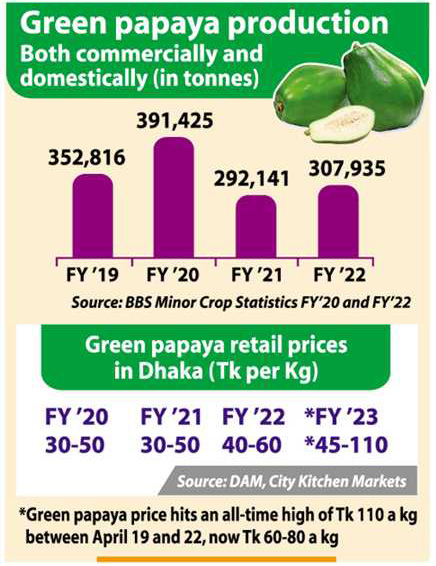 A price gap between farm level and city retail level is also another blow for consumers.
Prof Abdul Hamid, chairman of Bangladesh Agrarian Research Foundation said good production and handsome profits encouraged many farmers to switch to commercial papaya farming in the new millennium.
But for the last five to six years, he told the FE, many farmers have incurred losses amid a price debacle during the peak harvesting season in summer.
In 2020 and 2021, he said, prices even plunged to Tk 3.0-4.0 a kg in Rajshahi, Jashore, Mymensingh and other big regions in peak summer time.
He said commercial farming has declined in the regions for many farmers switching to other farming.
According to the Bangladesh Bureau of Statistics, green papaya production reached an all-time high of 0.39-million tonnes in FY20 and then it fell to 0.29-million tonnes in FY21.
Such a notable plunge is partly due to pandemic-induced lockdowns, according to the officials concerned.
Bangladesh also harvests nearly 0.13-million tonnes of ripe papaya annually, said the statistical body.
Green papaya production increased slightly in FY22, but commercial farming declined significantly, disclosed a DAM official.
He said green papaya from commercial gardens was 0.18-million tonnes in FY20 which declined to 0.13-million tonnes in FY22.
According to farm economist and supply-chain expert Prof Gazi M Jalil, a plunge in commercial farming means low supply in the vegetable market.
He said the decline in green papaya production is shocking news for the poor who could source such super-nutrient vegetable at a considerably low price.
It is a great source of vitamins C, E, A and B. Antioxidant in green papaya helps burn calories and extra fat deposits, said Prof Jalil.
It also contains two very powerful enzymes, papain and chymopapain, that help break fat, proteins and carbohydrates to obtain healthy metabolism.
Bangladesh is the seventh-largest papaya producer in the world with 0.43-million tonnes of both green and ripe papaya annually.