---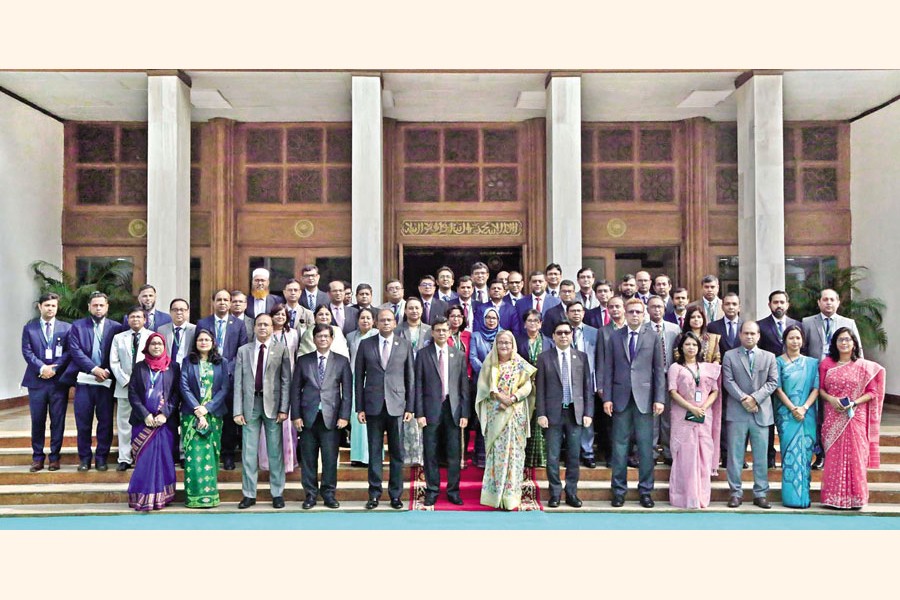 Prime Minister Sheikh Hasina along with divisional commissioners and deputy commissioners (DCs) poses for a photograph during the inaugural session of the three-day DC Conference-2023 at the Prime Minister's Office in Dhaka on Tuesday. The remaining part of the conference will take place at the Osmani Memorial Auditorium in the capital. — PID

Prime Minister Sheikh Hasina on Tuesday directed the deputy commissioners (DCs) to make all-out efforts to increase food production and exercise austerity in using electricity and public funds, reports UNB.
She also asked them to avoid less-important projects to face the current situation as well as to be devoted to building a 'Smart Bangladesh' by 2041.
The premier issued a 25-point directive while opening the three-day conference of deputy commissioners (DCs) at Shapla Hall of her office here in the city.
"You'll have to make an all-out effort to increase food production. No land should remain unutilized anywhere....There are uncultivated lands throughout Bangladesh, if we can make these fit for cultivation, we will have no problem in food production and diversification," she said in her first directive.
Hasina said she is now giving utmost importance to agricultural production so that Bangladesh would not be hit hard by the global food crisis.
In her second directive, she said, "You'll have to exercise austerity in using electricity and energy as well as make the common people aware in this regard."
The PM asked the DCs to ensure that the people receive services in time from the government offices and acquire satisfaction of the service-seekers.
Talking about the development projects, the PM directed the DCs to undertake the essential and fruitful projects considering local aspects and their possible outcomes as well as to supervise the quality of project works.
"In case of undertaking any project, you who are in our field administration should keep eyes on how it would be effective for the local area, how much people would be benefited from it, and ensure that there would be no wastage (of money)..... I don't like taking a project everywhere indiscriminately. I want to implement the projects which are immediately needed," she said.
Since a deputy commission is the charge of a district, the DC should monitor the quality and effectiveness of project works in the district, she said.
The premier said the government cancelled the proposed EVM project as the government now attaches priority to maintaining food security and healthcare services and welfare of the people right now in this situation.
The directives include exercising austerity in using government funds; stepping up endeavors to attain the targets set under SDG localization; ensure accesses of actual destitute and disadvantaged people to all social safety net programmes and creating employments; improving the teaching quality in educational institutions; ensuring the functioning of community clinics and union health and family welfare centres; ensuring creative practices, cultural activities and sports facilities for children and adolescents in every area; taking initiative to protect and create parks and playgrounds for the healthy lifestyle of citizens; developing a skilled workforce to take the optimum advantage of the fourth industrial revolution; keeping the websites of the government offices updated regularly and raising the progress and successes of the government's development works for respective districts there; working to ensure safe use of IT and internet as well as taking initiative to prevent misuse of social media and rumours; strengthening vigilance to ensure that the law and order situation no way deteriorates; and paying attention so that none can hamper the communal harmony by spreading rumours.
The remaining directives are: raising awareness against drugs, militancy and terrorism; conducting mobile courts to prevent crimes like child marriage, eve-teasing, food adulteration, and counterfeit goods; strengthening monitoring to maintain uninterrupted supply of essential commodities in the market, prevent artificial crisis and keep commodity prices normal; taking strict measures to protect government lands, rivers, forests, mountains and natural water bodies; increasing the navigability of river through regular dredging works; planting palm trees in lightning-prone areas; taking special initiatives to develop and maintain the tourism industry, and develop new tourist spots; conserving the heritage and culture of a district; strengthening monitoring to ensure that government offices are run in a spirit of service and putting public interest above everything else; and becoming devoted to build developed, prosperous golden and Smart Bangladesh by 2041 through proper coordination of the activities of all the district-level government offices.