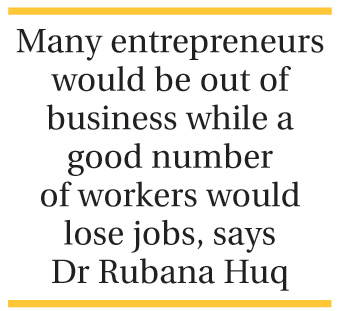 Thousands, mostly garment operatives, have lost their jobs in what industry insiders describe as a fall in production and work orders amid the Covid-19 pandemic.
Some 67 factories, including seven non-RMG (ready-made garment) units, have terminated a total of 17,579 workers until May 31, according to the Department of Inspection for Factories and Establishments (DIFE).
Besides, the data of the Industrial Police (IP) shows 10,493 workers lost their jobs in five industrial zones, except Dhaka metro area, under its jurisdiction during this viral outbreak.
Of the workers, IP sources said, 9,010 were garment and textile workers.
Fifty-seven Bangladesh Garment Manufacturers and Exporters Association (BGMEA) member mills have shed 8,364 jobs, and 10 Bangladesh Knitwear Manufacturers and Exporters Association (BKMEA)-registered units 637.
Two mills under Bangladesh Textile Mills Association have also cut nine jobs.
Some 47 workers from factories under Bangladesh Export Processing Zones Authority and 1,436 workers from 10 non-RMG units were terminated during the corona period, according to the IP.
Labour leaders alleged that the number is much higher than the available official figures.
Major job losses were witnessed in May despite repeated calls from the government not to do so despite its stimulus package for making wage payments during the pandemic, they said.
The apparel-sector leaders, however, expressed fear of more job cuts in the coming months, saying that the industry is now operating with 55-per cent capacity.
When asked on Thursday, DIFE inspector general Shibnath Roy said they have enlisted all the terminated workers and found that 17,579, mostly garment workers, were terminated until May 31.
Twenty-six factories located in Dhaka terminated 7,488 workers and 30 Gazipur units 9,193, according to the DIFE.
An estimated 554 workers from two factories in Narsingdi, 193 from six units located in Narayanganj and 151 from three units in Chattogram were terminated.
A meeting to explore the reasons was scheduled for Thursday but it has been postponed until June 15, the DIFE chief told the FE.
The DIFE will ask RMG leaders why they axed jobs despite the government's support to pay workers from March to May and its call for no retrenchment before Eid.
It will scrutinise whether legal procedures were met before termination and workers received their lawful compensation, Mr Roy told the FE.
"If we find any deviation from the law of the land regarding termination, the government would go for legal action against those factories," he uttered.
The DIFE will suspend renewal of the errant factories and file cases against them, Mr Roy warned.
Meanwhile, BGMEA president Dr Rubana Huq at a virtual ceremony to launch a lab on Thursday expressed fear that more workers might lose jobs in the coming months.
Factories are now operating with 55-per cent production capacity for shortages of work orders and maintaining health safety guideline, social distancing and working with less workforce, she said.
Many entrepreneurs would be out of business while a good number of workers would lose jobs due to the unprecedented coronavirus pandemic, she apprehended.
Citing a study of McKinsey and Company, Ms Rubana said global apparel consumption would lessen by 65 per cent for Covid-19, meaning that consumers will be conservative in buying clothes.
She apprehended that the sector might receive 30 per cent of the required export orders in next months.
It would not be possible for owners to continue with 100-per cent workforce with 55 per cent production capacity and 30 per cent work orders, she predicted.
"But we want to be optimistic as the US imports from China have fallen by 52 per cent and only 2.0 per cent from Bangladesh during the pandemic."
It could be an opportunity for Bangladesh to grab a portion of Chinese apparel export to US market, hoped the BGMEA president.
After controlling the infection rate of Covid-19, Bangladesh could be a good sourcing destination for global buyers, she concluded.