The government plans to introduce universal pension scheme within next six months to one year with the avowed aim of ensuring a secure life for elders, especially after retirement at 60.
Citizens aged between 18 and 50 are entitled to participate in the contributory pension scheme, Finance Minister AHM Mustafa Kamal said Wednesday, detailing the pension system.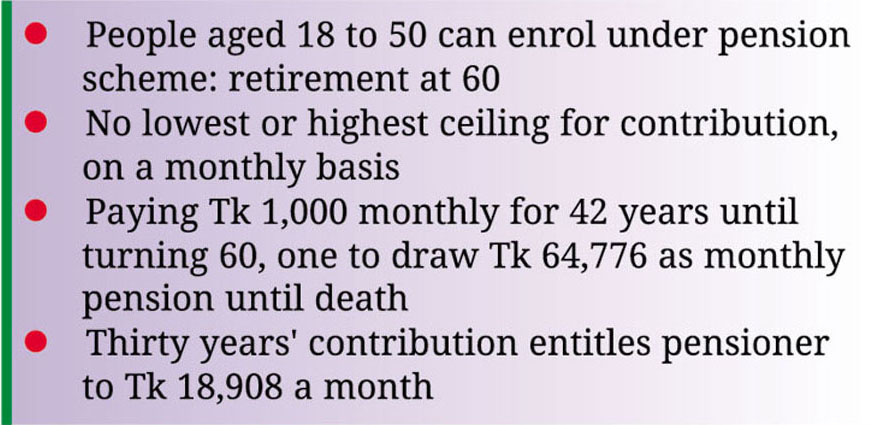 He notes that the lifespan of people in Bangladesh is projected to reach 80 years in 2050 and 85 years in 2075, from the present longevity of 73.
"Thus it is assumed that in the next three decades, an employed person will remain alive nearly 20 years after he or she goes on retirement," the minister says.
And the dependency ratio may go up to 24 per cent in 2050 and 48 per cent in 2075 from the present rate of 7.7.
"Taking into consideration the rise of average life expectancy and growing dependency ratio, a unified pension scheme is very much necessary for our old-age security," Mr Kamal told reporters after a virtual meeting of the cabinet committee on government purchase.
He said a universal pension act would be enacted soon in line with the directives given by the Prime Minister.
"Its (pension scheme) like a contributory provident fund," the minister said to a query, adding that there will be no lowest or highest ceiling for contribution.
Elaborating on some features of the pension system, the minister said any resident national of the country aged between 18 and 50 is eligible to participate in the pension scheme alongside those working abroad.
However, people working in government and autonomous bodies will remain out of the purview of the scheme. The government will take decision on them later on.
National identity card will be the basis for a citizen to open a pension account. Initially, the enrolment will remain optional and be made mandatory later.
One has to contribute for a period of at least 10 years to be eligible to get monthly pension. Every citizen will have separate pension account, thus the account will remain unchanged even after they change jobs.
An enrolled citizen should make contribution on monthly basis. However, the expatriate workers will be able to deposit contribution every three months, he said.
If any enrolled citizen fails to make payment of yearly minimum contribution, his or her pension account will remain frozen. The account will be reactivated once the dues are paid with late-payment fees.
The government will contribute a similar amount of money against the contribution of an enrolled citizen.
A pension scheme authority will be formed to administer the scheme which will invest the funds in suitable financial instruments to acquire highest possible returns.
Once an enrolled citizen goes on retirement at the age of 60, he or she will start to get monthly pension based on his contribution and accrued interest. A pensioner will continue receiving the annuity until death.
However, if a pensioner dies before turning 75, his or her nominee will be eligible to receive the payments for the rest of the months or years. If an enrolled citizen dies before contributing 10 years, the nominee will get the deposited money with interest.
"The government will consider providing a portion of monthly contribution of low-income group of people as donation," says the minister.
Citing an example, Mr Kamal said an 18-year-old citizen, by paying Tk 1,000 per month, for a period of 42 years until he or she turns 60, can get monthly pension of Tk 64,776 till death.
On the other hand, if one makes contribution for 30 years, he or she will get Tk 18,908 per month as pension.
If the amount of monthly contribution goes higher than Tk 1,000, the size of monthly pension amount will go further up.
The minister further says the government will check the pension schemes run by neighbouring countries and follow the best method before its finalisation.