---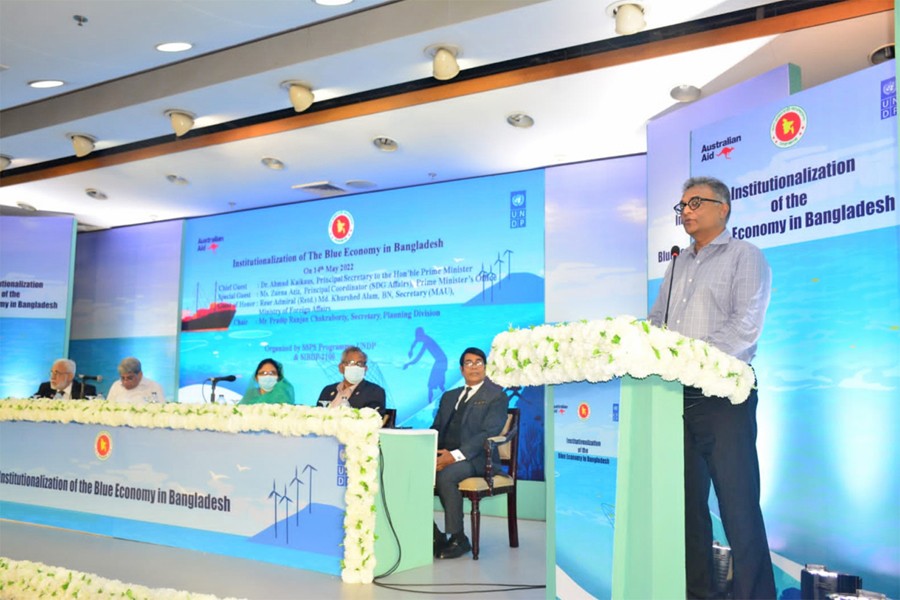 A policy dialogue on "Institutionalisation of the Blue Economy in Bangladesh" organised by General Economics Division (GED) of Bangladesh Planning Commission in collaboration with Social Security Policy Support (SSPS) Programme under UNDP in progress in the city's Sher-e-Bangla Nagar area on Saturday
Speakers at a programme in the city on Saturday stressed the need for proper coordination among stakeholders through forming a separate ministry or department to untap full potential of blue economy in the country.
They also called for carrying out research in oceanography departments of different universities to unearth natural resources from the Bay of Bengal.
They were addressing a policy dialogue on "Institutionalisation of the Blue Economy in Bangladesh" organised by General Economics Division (GED) of Bangladesh Planning Commission in collaboration with Social Security Policy Support (SSPS) Programme under UNDP at Bangabandhu International Conference Center (BICC) in the city's Sher-e-Bangla Nagar.
Principal Secretary to the Prime Minister Dr Ahmed Kaikaus addressed the programme as the chief guest and Chief Coordinator (SDG Affairs) at Prime Minister's Office Zuena Aziz spoke as special guest while Foreign Affairs Secretary (Maritime Affairs Unit) Rear Admiral (Retd.) Md Khurshid Alam was present as guest of honour.
With Planning Division Secretary Pradeep Ranjan Chakraborty in the chair, GED Member (Secretary) Dr Kawser Ahmed and UNDP Project Manager (SSPS) Aminul Arifeen presented separate papers at the event.
In his speech, Dr Kaikaus said the entrepreneurs coming forward to work on ocean-based activities should be promoted in a way so that they get benefits of the good policies framed by the government.
He said long liner fishing ships can be purchased at $150 million which can catch fish the day after getting commissioned but if there is no fish processing industry, it is not viable for businesses to invest in the sector.
He also noted that due to complex export compliance issues, entrepreneurs are more interested in selling fish in local market instead of export as the profit margin is not that wide.
Stating that institutional changes are required to use the full potential of blue economy, he said Bangladesh is positioned in a strategic location on the global sea routes that needs proper policy intervention to utilise the privilege.
Meanwhile, Mr Alam underscored the need for forming a proactive 'shipping policy" for the development of the country's shipping industry.
He also laid emphasis on effective use of river routes for goods transportation to and from seaports to the industries in Dhaka and adjacent areas.
In a presentation, Mr Arifeen said with proper management, blue economy may contribute over US$ 18 billion or 4.0 per cent of the country's GDP which currently stands at about $465 billion.
He also noted that the blue economy contributes about 28 per cent of GDP in Indonesia, 23 per cent in Malaysia, 12 per cent in Sri Lanka, 10 per cent in China, and 4.1 per cent in India.
During the open discussion, Bangabandhu Sheikh Mujibur Rahman Science and Technology University (BSMRSTU) Vice-chancellor Professor Dr AQM Mahbub said Bangladesh got its economic jurisdiction over 200 nautical miles of the Bay of Bengal which is largely unused.
"Bangladesh needs modern fishing boats to catch high value fish from the deep of the ocean as the traditional fishing boats can only catch fish within 10 to 15 nautical miles," he said.
The discussion on blue economy covered eight major thematic areas including marine fisheries and aquaculture, marine energy, marine biotechnology and therapeutics, marine tourism, ship and port management, sea rule and management, marine finance and satellite oceanography and ICT.