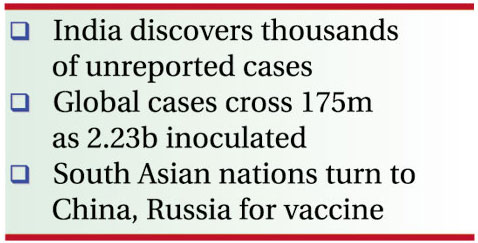 The Biden administration plans to donate 500 million Pfizer coronavirus vaccine doses to about 100 countries over the next two years, three sources familiar with the matter said, report agencies.
The United States is likely to distribute 200 million shots this year and 300 million in the first half of next year, they said. It will donate them to 92 lower-income countries and the African Union, they added.
The donations will go through the COVAX vaccine facility that distributes COVID-19 shots to low- and middle-income countries and is backed by the World Health Organization (WHO) and the Global Alliance for Vaccines and Immunization (GAVI).
US President Joe Biden was to announce the deal Thursday at the Group of Seven meeting of the world's wealthiest countries in Britain, one of the people said.
Meanwhile, Indian state Bihar has raised its COVID-19 death toll sharply higher after the discovery of thousands of unreported cases, lending weight to suspicion that India's overall death tally is significantly more than the official figure.
Another report adds: Sri Lanka began injecting pregnant women with a Chinese coronavirus vaccine on Wednesday and Nepal resumed inoculations with a China-made jab as India's neighbours turn to Beijing and Moscow for help with supplies.
Meanwhile, the novel coronavirus has killed at least 3,778,740 people since the outbreak emerged in China in December 2019, according to a tally from official sources compiled by Worldometers Thursday.
At least 175,241,255 cases of coronavirus have been registered.
On Wednesday, 10,848 new deaths and 427,475 new cases were recorded worldwide.