---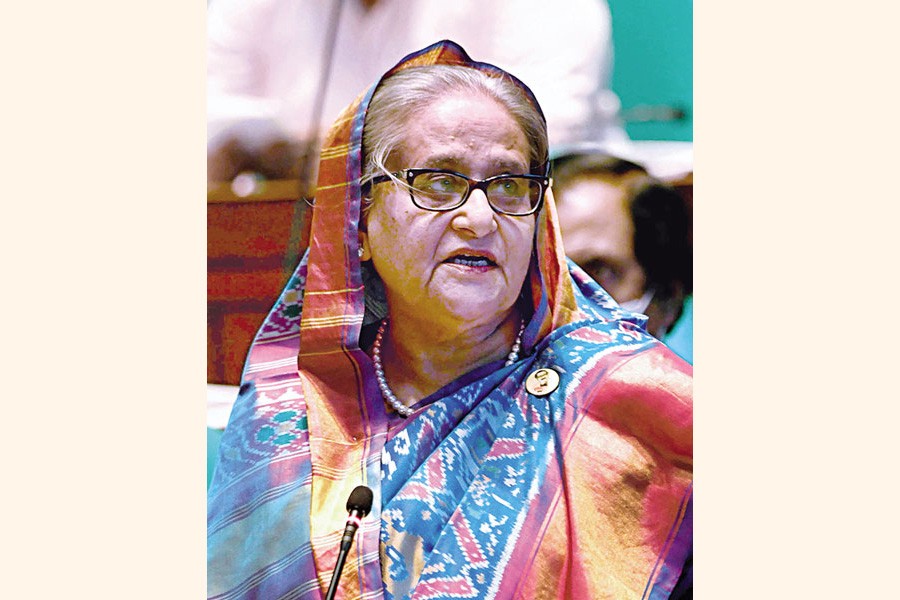 Prime Minister Sheikh Hasina
Prime Minister Sheikh Hasina on Wednesday said that she stands ready for correction if the opposition parties can find out any failure of her government, reports UNB.
She said this while responding to a question from Jatiya Party lawmaker Fakhrul Imam during PM's question hour in Parliament.
"People will judge the successes and failures. It is not my responsibility to judge that. Why should I fail if I work with honesty and specific goals for the welfare of the people?" she said.
"Since you are so interested, please find out my failures, I will correct those," she told the JP lawmaker.
She said that after the formation of the government, she has worked with the desire that the grassroots people will stay well.
"People are getting the benefits now. Elderly people will understand the radical changes that happened in Bangladesh in the last 14 years," she said. But, she said that today's generation will not realise that.
In response to a question from ruling party MP AKM Rahmatullah, the prime minister said that after killing Bangabandhu, late Gen. Ziaur Rahman seized power illegally and freed the war criminals and rehabilitated them.
By changing two clauses of the constitution, Zia allowed them to do politics and gave them the right to vote.
"Many war criminals including Ghulam Azam were brought back from Pakistan and given citizenship. Zia made war criminals as advisors and ministers," she said.
She said Zia's wife Khaleda Zia also gave war criminals a place in her cabinet after she came to power.
"It is disgraceful for a nation to patronise war criminals like this. Genuine freedom fighters who did not agree to join hands with Zia were omitted from the list of freedom fighters. They were humiliated as Zia included the non-freedom fighters in the list of freedom fighters. They did not want to honour the real freedom fighters."
In response to ruling party MP Benazir Ahmed's question, Sheikh Hasina said that the corona pandemic and the Russia-Ukraine war have affected the global economy.
"Bangladesh is no exception. Along with other overall economic and social negative effects, this has affected the market prices of daily necessities," she admitted.
In reply to a supplementary question of ruling party MP Mozaffar Hossain, the PM said that Bangladesh's garment industry has expanded widely, but there are difficulties finding technical persons in there.
"Many people are brought from abroad and given jobs," she said.
In this connection, she said, her government has established textile universities and colleges In order to create skilled manpower in this sector.
The prime minister said that at the moment the government has no plan to create any new cadre in the BCS. "But (the government) may consider it in future."