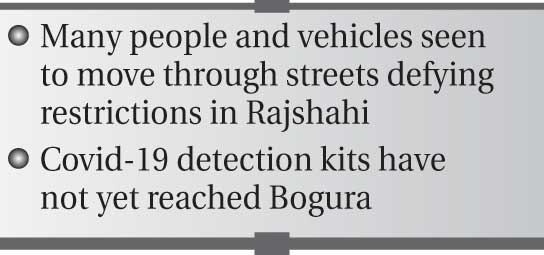 SYLHET, Mar 31: Twenty eight people were put on home quarantine during the last 24 hours in three districts of Sylhet division while none was there in Sylhet district during the period.
Assistant Director at divisional health office Md Anisur Rahman said on Tuesday the figure includes 14 in Sunamganj, 10 in Habiganj and four in Habiganj districts.
Of the total 3,062 people sent on home quarantine till date, 1,829 have been released at the end of their 14-day quarantine period.
Meanwhile, three more 'suspects,' who had been under institutional quarantine at the Shahid Shamsuddin Hospital in Sylhet city tested negative. Accordingly they were released this afternoon, an official informed.
Five people have been at the said hospital till Monday, the official, adding as three of them tested negative from IEDCR tests, they were released. Of them a student of a university in the capital got admitted as he felt indisposed on return from Dhaka on Saturday. An 80-year-old man with fever and cough was admitted at the same hospital three days ago. As his condition improved, he was released and allowed to go to his home this afternoon. The other was a female, the official added.
On the other hand, setting up of the laboratory for testing the suspected coronavirus carriers has been going on, informed Deputy Director at the Sylhet MAG Osmani Medical College and Hospital Dr Himangshu Lal Roy.
In total 500 kits have already reached here initially while there would be another 4,500 kits for the lab soon, he added.
Having the highest number of returning expatriates, the region had the acute necessity of the testing facilities for the coronavirus carrier 'suspects.' There was lengthy process for getting the test results from the capital. Considering the situation, the authority decided for setting a laboratory in Sylhet region last week.
Accordingly the equipments reached here on Monday and setting of those is on at the Virology Department of the Syhet MAG Osmani Medical College. Things would be ready by Sunday, the official said.
Our Rajshahi Correspondent writes: The scenario of Rajshahi city is gradually turning to normal as a large number of people as well as vehicles are seen to move through the city streets during the last couple of days by defying restrictions.
Though most of the shops in various city markets remained closed, the shops of grocers, greengrocer markets, medicine shops, and confectionaries remained open. Even, some tea-stalls in city street corners were seen to remain open and people were seen to gather in front of those stalls to have tea and gossiping.
Though most of them were wearing masks, such gatherings of people are increasing the risk of spreading the virus among people.
A large number of passengers were seen to sit closely in autorickshaws and rickshaws travelling through the streets and suburbs.
The greengrocers' markets and fish markets in Shaheb Bazar, RDA market, Rajshahi Court market and Sagarpara market were seen to throng by a large number of customers.
In Bou Bazaar at Hadirmore area, a huge number of customers, especially women, were seen to gather and bargain to purchase goods.
Even, in some places of the city, poor people were seen standing closely in long queues to procure the relief materials being distributed by political parties and various voluntary organisations.
Golam Ruhul Quddus, spokesperson of Rajshahi Metropolitan Police, said food shops and restaurants have been kept open where police were trying to maintain social distance. Some tea-stalls and other shops were also being opened in various areas but police were forcing those to close through conducting operations.
Meanwhile, Our Bogura Correspondent adds: Covid-19 detection kits have not yet been reached in the district though two patients have been admitted in Mohammad Ali Isolation Centre with fever, cold and cough.
Meanwhile, many do not obey the official directive of staying home. So many people came out on the streets.
Although various institutions of the government try to make the public aware, people seem to ignore it.
Besides, the situation in the village is even scarier. Thousands of people are busy in various activities in the village haats and bazars without any preventive measures.
Meanwhile, some 750 people are in home quarantine. In the last 24 hours, a total 32 people were kept in fresh home quarantine.
According to the District Civil Surgeon's office, 32 people are on frash home quarantine. After remaining 14 days at home quarantine 215 people have been released.
On the other hand, two people were admitted to the Mohammed Ali Hospital Isolation Centre on Sunday with fever, cold and cough. However, coronavirus detection kits have not reached Bogura yet, informed civil surgeon Gausol Azim.
Our Gopalganj Correspondent states: A total of 494 people in the district have been kept on home quarantine. Of them 40 of local people while others returned from abroad. This information was confirmed by Dr Niaz Mohammad, District Civil Surgeon on Tuesday.
Sadar upazila health and family planning officer Dr Md Assaduzzaman Hawlader said, "We are carrying out awareness campaign about safety measures against coronavirus through loudspeakers across the area.