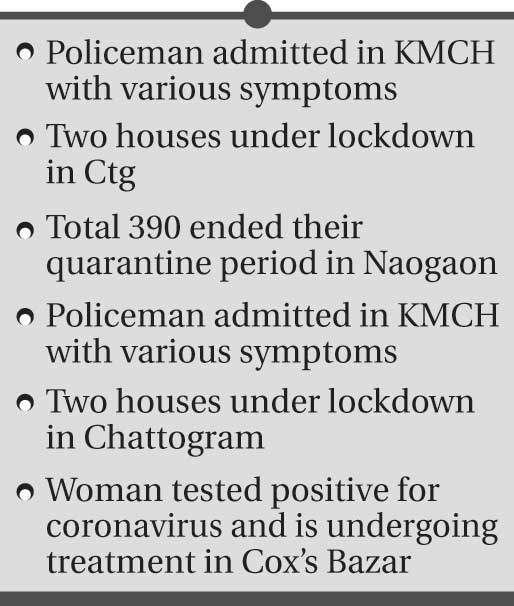 NAOGAON, Mar 25: A total of 922 overseas returnees, including 38 fresh ones in the last 24 hours, have been kept in quarantine in the district today in order to prevent coronavirus infection.
With this, total 1,312 people hahve been placed in home quarantine till this noon.
Besides, total 390 people ended their quarantine with completion of the period set by physicians, district civil surgeon's office sources said.
Our Khulna correspondent writes: A policeman was admitted to the Corona Isolation Unit at Khulna Medical College Hospital (KMCH) on Tuesday night.
Dr Shailendra Nath Biswas, vocal person of RP and Corona Unit of KMCH, said the KMP policeman came to the hospital on Tuesday night with various symptoms, including fever, cold and cough.
He was admitted to the Corona Isolation Unit after observing his physical condition.
He has been kept under constant observation. However, his physical condition is improving, he added.
Meanwhile, UNB adds: In Chattogram, the local administration has put two houses under lockdown in the city as a woman who tested positive for coronavirus visited those.
District Civil Surgeon Sheikh Fazle Rabbi Mia said the woman, aged about 75, from Chakaria in Cox's Bazar district returned from Saudi Arabia on March 13 after performing Umrah.
The woman tested positive for coronavirus and is undergoing treatment in Cox's Bazar.
After returning home, she went to the house of her son at Chandgaon Residential Area and later she visited the house of another son at Kalamia Bazar in Bakolia area in the city.
On information, the local administration put the two houses under lockdown.