Bangladesh's proven natural gas reserves might be depleted in less than five years if production continues at its current rate, said a new report.
According to the report, titled 'Bangladesh at an Energy Crossroads', the current rising trend of consumption is predicted to continue with domestic gas supplies expected to fall 25 per cent by 2025.
Rocky Mountain Institute (RMI), a US based independent, non-partisan, nonprofit organisation, released the report on Saturday.
Bangladesh is Asia's eighth-largest natural gas producer; gas is currently the dominant source of energy supply in Bangladesh; however, future reliance on gas comes with critical climate, environmental, health, and economic costs, said the report.
The report comes at a time when the country and its population are experiencing devastating and disproportionate climate impacts and have expressed their desire to support the Global Methane Pledge - in which signing countries have committed to reducing the super-potent greenhouse gas by 30 per cent by 2030.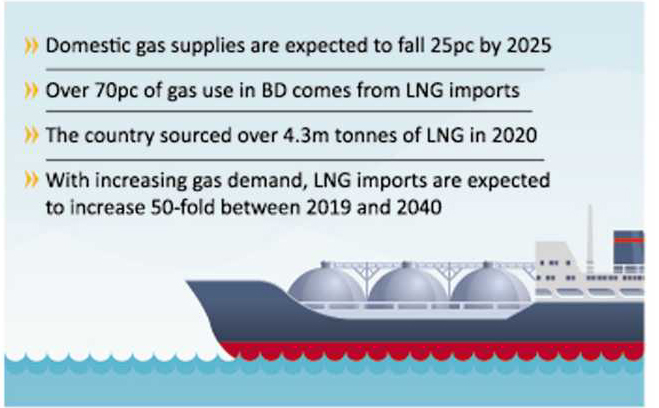 The study includes key emissions findings, observed trends, and possible trajectories under different energy scenarios utilising estimates derived from the Oil Climate Index plus Gas (OCI+), which leverages satellite data and public, technical data about oil and gas resources and operations, to evaluate the methane intensity of various oil and gas resources across their entire lifecycle.
According to it, Bangladesh continues to consume more natural gas than it can produce, so it is increasingly relying on imported LNG to bridge this gap. Currently, over 70 per cent of Bangladesh's gas use comes from LNG imports.
In 2020, Bangladesh sourced over 4.3 million tonnes of LNG imports, and as gas demand is expected to rise, LNG imports are expected to increase 50-fold between 2019 and 2040. The emissions impact of Bangladesh's imports out to 2040 is estimated to be 390-900 MtCO2e, equivalent to more than 100 coal-fired power plants.
Bangladesh expressed its intent to reduce methane emissions in its National Action Plan for Reducing Short-Lived Climate Pollutants in 2018.
It has further voiced support, but is not yet a participant, of a groundbreaking Global Methane Pledge in 2021 at the Major Economies Forum on Energy and Climate.
The currently planned expansions into LNG could be at odds with these national and international commitments.
LNG is a major source of methane, which has 84-times greater global warming potential compared to CO2 over a 20-year timeframe.
Dr Khondaker Golam Moazzem, research director of the Centre for Policy Dialogue (CPD), said it is clear from the report that gas, whether in the form of natural gas or LNG, causes multi-dimensional adverse impacts on environment and health along with the economy.
Portraying the gas or LNG as a 'cleaner' form of energy or as a 'transitional' form of energy is an attempt not to disclose the facts on gas or LNG in full. Hence, greater transparency in disclosing information on gas-related adversities on the environment, health and economy should be prioritised by major economies, he said.
Perhaps now more than ever, methane matters to countries like Bangladesh and to the world. This is because methane emissions are intertwined with fossil fuel production and the risks of fossil fuel dependence have become far too costly, said Frances Reuland, senior associate at RMI and author of the report.
Understanding the true costs of gas dependence, which have become more transparent than ever before thanks to remote emissions monitoring and new data tools like the OCI+, is critical as more and more global economies look to transition to a clean energy future that is more secure for their climate and economies and benefits the health of their citizens, Frances Reuland also added.
The report shows that by 2040, emissions affiliated with the production and transport of LNG could make up the bulk 95 per cent of the emissions Bangladesh is responsible for.
This is driven by the shift away from domestic production and toward gas imports. Also, if emissions are not managed properly along the gas value chain, methane can be just as bad, if not worse, than coal for its climate impact.
Moreover, planned LNG expansion poses several health risks. Across the value chain, there are risks to burning gas because of the toxins it emits into the atmosphere. Children and residents living close to gas infrastructure are some of the most at risk of health problems from LNG.
The Paris Climate Agreement called on governments to rise to the challenge of curbing climate change. Bangladesh - one of the many countries that ratified the Paris Agreement - is in an especially challenging position given its rapid growth, extreme vulnerability to climate impacts, and interrelated climate and sustainable development goals.
Bangladesh's ability to manage and reduce methane will directly affect whether or not the country can meet the energy, climate, and environmental goals set by the national government.
The Ministry of Environment and Forests published its first Intended Nationally Determined Contribution (INDC) in 2016, stating a goal to decrease emissions in the power, transport, and industrial sectors.
In addition to INDC scenario planning under the Paris Climate Agreement, Bangladesh adopted a National Action Plan for Reducing Short-Lived Climate Pollutants in 2018.
The plan, which targets five major methane sources including fossil fuel distribution systems, could reduce methane emissions by 17 per cent and black carbon by 40 per cent by 2030, all while moving Bangladesh closer to its Paris commitments.