---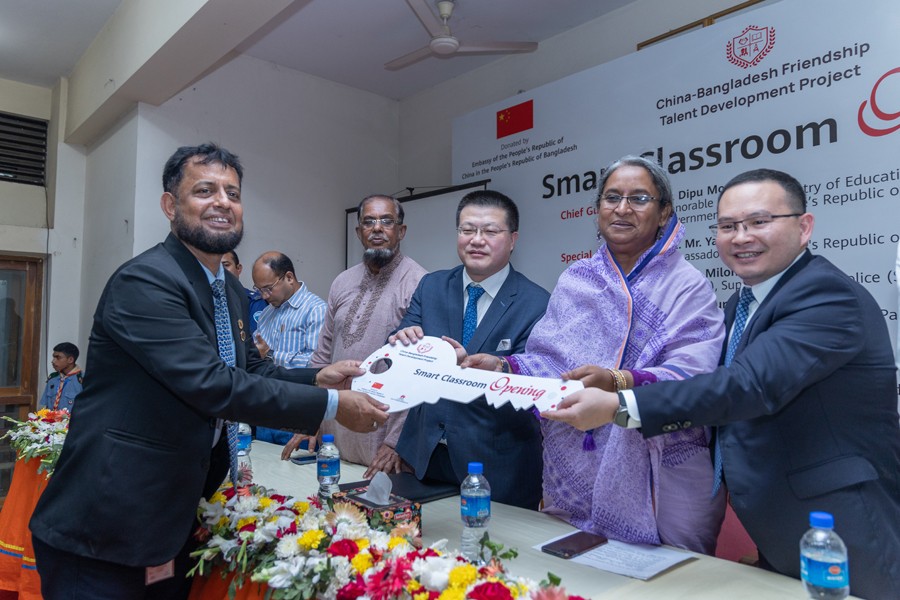 Education Minister Dipu Moni and Ambassador of China to Bangladesh Yao Wen, among others, at the opening ceremony of a smart classroom at Chandpur Government Technical School and College located at Shologhar in Chandpur
The Chinese embassy has donated the first smart classroom with the latest smart education solution from Huawei under a friendship project for talent development, says a press release.
As the very first initiative, Chandpur Government Technical School and College located at Shologhar in Chandpur has been equipped with advanced learning solution that will allow the teachers and students to have advanced onsite and online teaching and study platforms.
At the inauguration ceremony for this pilot launch held on the college premises recently, Education Minister Dipu Moni was present as the chief guest and Ambassador of China to Bangladesh Yao Wen as special guest.
Pan Junfeng, CEO of Huawei South Asia; Md Mahbubur Rahman, Principal in-charge, Chandpur Government Technical School & College; and other high officials from relevant entities were also present.
The Chinese embassy donated the whole smart classroom solutions, including two Idea Hubs (Huawei's Interactive Whiteboard), whole classroom WIFI coverage, online learning platforms with abundant ICT course-related materials like videos, online courses and educational contents.
---
---
---
---