Speakers at a virtual event have said that Bangladesh needs to adopt a new policy, in order to take the implementation of WASH (water, sanitation and hygiene) programmes to the next level.
Therefore, public investment and multi-stakeholder engagement have to be increased to ensure water, sanitation and hygiene for all, the speakers further said.
To get the outcome, they underscored the need for evidence-based, pro-poor and innovative approach, ensuring transparency and accountability along the way of implementation.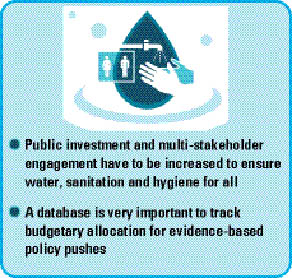 There has to be an innovative WASH financing approach to finance and subsidise the programmes, speakers told the webinar, titled '50 years of WASH in Bangladesh', held on Thursday.
The virtual event is part of the integrated dialogue campaign titled 'Bangladesh Miracle - Celebrating 50 years of Development Progress of Bangladesh' - organised by the Innovision Consulting Ltd in association with The Financial Express and the Department of Economics, North South University.
"We have achieved WASH 1.0, but our policy making mindset is still focused on WASH 1.0...we need to bring WASH 2.0 on the table," said Dr Hossain Zillur Rahman, executive chairman of the Power and Participation Research Centre - PPRC.
He said the database was a very important tool to track budgetary allocation for evidence-based policy pushes.
Mr Rahman underscored the need for ensuring pro-poor aspect of WASH implementation before going for quick market solutions.
He said public investment was critical in this connection through multi-stakeholder engagement - rather than public-private partnership.
It should not be a one-size-fits-all approach; there must be diverse solutions for various problems, Mr Rahman noted.
Speaking on the occasion, Dr Md Khairul Islam, regional director of the WaterAid South Asia, said Bangladesh expanded hygiene coverage by 17 percentage points in the last five years but still lagged behind all other South Asian countries except Afghanistan.
Bangladesh's piped supply of water is also the lowest in South Asia, he pointed out.
He urged the government to include pro-poor sanitation and hygiene policies and bring back the past glory of being a top performer in water and sanitation solutions in the region.
Dr Nazmun Nahar, professor of civil and environmental engineering at North South University, said quality of latrine was one of the major challenges.
She urged the city corporations to set up women and disabled friendly toilets in urban areas.
Professor Dr Md Mafizur Rahman of civil engineering department at the Bangladesh University of Engineering and Technology (BUET) said local government bodies, especially Union Parishad, should have a database and carry out faecal sludge management in the respective areas.
Project Manager of SanMarks2 Saqif Nayeem Khan said private sector networks had greater potential to reach rural markets with essential and relevant products.
He said the private sector could collaborate, learn and make better use of providing information, embedded services and guidance that enable local entrepreneurs and communities for certain markets and products where conventional approach might not work.
Rumat Ashraf, regional director for Middle East and Latin America of HappyTap Co, said the new normal of hygiene was making available facilities for washing hands at home and everywhere out there within reach.
Chief Executive Officer of Drinkwell Minhaj Chowdhury said Covid-19 had catalysed public-private partnerships, enabling the government to serve WASH facilities in hard-to-reach areas.
He said challenges were there in implementing such a PPP model over the long-term period.
Rubaiyath Sarwar, managing director and Lead Consultant of Innovision Consulting Ltd, said NGOs were playing a key role in conceptualising and piloting some of the WASH solutions in Bangladesh.
He said innovative WASH finance solutions could play a key role in future.
Syeda Saima Ahmed, elected local government representative at London Borough of Redbridge, UK moderated the discussion.
Nextgenedu, mPower, CARE Bangladesh, ICCO, GAIN Bangladesh, WaterAid, Simprints, BIID, Pathao, Anchorless Bangladesh, Sarabangla, ColorsFM 101.6, Windmill Advertising, Young Economists' Forum (YEF) and Printagraphy also partnered for the event.