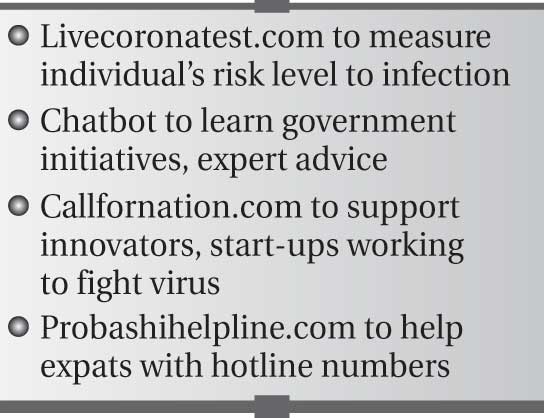 Information and Communication Technology (ICT) Division has introduced four digital platforms, including a personal risk assessment web tool, to create awareness among people and provide latest information about coronavirus.
The other platforms involving two separate websites and a Facebook chatbot will also help Bangladeshis home and abroad learn about their responsibilities in dealing with the situation.
A chatbot is a computer programme mostly available with Facebook messenger, which simulates conversation between human users and an organisation.
The digital tools were unveiled at an online press conference on Monday organised by the ICT Division.
State Minister for ICT Zunaid Ahmed Palak moderated the press conference.
The state minister said the ICT division has been working with experts and innovators to help people get accurate information and other services to battle the deadly virus.
"Now we are unveiling some of the services for the sake of country's people, the information services will also help the government decide its actions," said Mr Palak.
He said with a new website any individual can measure his or her risk level to coronavirus infection by visiting the website www.livecoronatest.com, which has been developed with artificial intelligence (AI) and big data technology.
"The platform will help reduce the tremendous pressure on the existing call centres," he said.
Regarding the chatbot, the state minister said a user can use the computer programme through the messaging option of the verified Facebook page of ICT Division, Bangladesh.
The chatbot will help a user to learn about various aspects of the virus, latest statistics, government initiatives, expert advice and take part in quiz to test knowledge about the virus.
A local start-up called Headless developed the chatbot.
Mr Palak also introduced another web platformwww.callfornation.com to support and coordinate among the innovators and start-ups who have been working to fight against the epidemic in the country.
"Young innovators, software engineers, scientists and their teams can come up with their solutions related to the impact of the deadly virus," Zunaid said.
Besides another web platform www.probashihelpline.com will help Bangladeshis living abroad get information about the relevant foreign offices' address and hotline numbers.
17 start-ups related to healthcare sector and fighting against coronavirus were also introduced at the event.
Senior Secretary to the Information and Communication Technology Division N M Zeaul Alam, IT professionals and developers took part at the online conference.
saif.febd@gmail.com