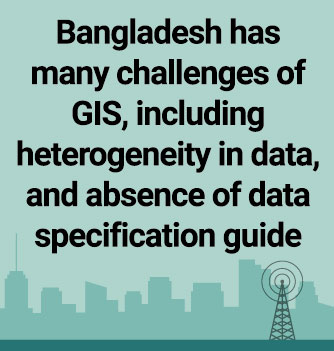 The fourth industrial revolution (4IR) is changing fast the landscape of global economy and industrialisation, a senior official said here on Wednesday, stressing the need for using modern technology to increase competitiveness.
Bangladesh cannot be left out and the country is taking initiatives considering the challenges, said the chief of programming division at Planning Commission, Mr. Khandker Ahsan Hossain.
He was speaking as chief guest at a programme on application of GIS Technology in National Planning and Project Appraisal at the NEC conference room.
Programme coordinator at the GIZ Bangladesh Dr. Dana De la Fortaine attended the programme, jointly organised by the programming division, GIZ and Esri South Asia.
Mr. Hossain said that Bangladesh is taking initiatives for all the upcoming projects considering sustainability with climatic conditions and climate-risk information for adaptation and mitigation measures in agriculture, forestry, infrastructure, social and economic, irrigation, energy, and industrial sectors.
"We may anticipate mega projects are coming for the development of the country which need art of the edge technology, sound skills and time-bound implementation."
The workshop was organised to provide a general overview on the unexplored potentials and possibilities of Geographical Information System (GIS).
It was also to explain how systematically integrated geo-spatial data provide collective intelligence to consider not only climate and disaster-risk information into national planning system for better planning and appraisal process but also other information i.e. population and metrological data, growth centre, existing education points, roads, bridges, mauza map etc.
At present, the programming division is implementing a sub-project under National Resilience Programme (NRP) and establishing the Digital Risk Information Platform (DRIP), a web based software, to support the use of Disaster Impact Assessment (DIA) tool in DPPs.
The Planning Information System (PLIS) introduced in the Physical Infrastructure Division is expected to be extended to other divisions of the Planning Commission, following integration with the DRIP.
In addition, the Implementation of Digital ECNEC (IDE) project is being updated with information and communication technology that is suitable for the modern economy of Bangladesh.
In his keynote presentation, country manager of Esri South Asia Mohammad A. Hadi said that Bangladesh has many challenges of GIS. These are: heterogeneity in data, absence of data specification guide, absence of authoritative control over publications geo-spatial data, continuous updating of the map and lack of local base map etc.