---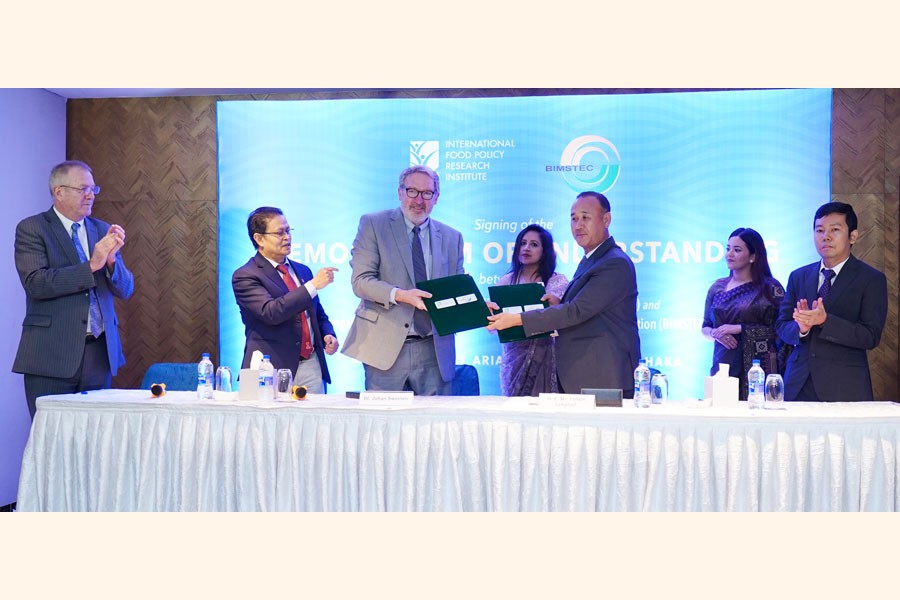 IFPRI Director General Dr Johan Swinnen and BIMSTEC Secretary General Tenzin Lekphell signed a memorandum of understanding (MoU) at a city hotel on Sunday.
Food diplomacy is now crucial for sourcing food-grains and other essentials, as there is no visible shortage of such commodities in the globe, international experts observed on Sunday.
The observation came on the occasion of a memorandum of understanding (MoU) signing between the International Food Policy Research Institute (IFPRI) and the Bay of Bengal Initiative for Multi-Sectoral Technical and Economic Cooperation (BIMSTEC) Secretariat.
The MoU signing ceremony, organised by the IFPRI, was held at a city hotel.
IFPRI Director General Dr Johan Swinnen and BIMSTEC Secretary General Tenzin Lekphell signed the MoU on behalf of their respective organisations.
Foreign Affairs Secretary - Bilateral (West) Shabbir Ahmad Chowdhury presided over the programme, while Economic Adviser to Prime Minister Dr M Mashiur Rahman spoke in it, among others.
The MoU was signed to help facilitate further collaboration and partnerships to work towards a sustainable and inclusive transformation of food systems in the region, said the programme organisers.
The initial engagements under the MoU focused on three major areas - food security and poverty, trade and investment, and climate change and environment.
Dr Johan Swinnen said his organisation is delighted to engage and work with the BIMSTEC as well as the member countries' research institutions on capacity sharing initiatives along with outreach and policy communications through cross-country learning and idea exchange.
Tenzin Lekphell said the BIMSTEC region is the home of around 1.8 billion people with US$3.6 trillion GDP, but it still has a large untapped trade potential.
The region has been going through a number of challenges related to food and nutritional security.
"The IFPRI is a renowned research institute that has been working for over four decades to provide research-based solutions to some of the world's most pressing food and nutrition security challenges."
"By working with the BIMSTEC, the IFPRI could leverage its expertise and knowledge to help the region address its challenges more effectively," he added.
Mariana Kim, Bill and Melinda Gates Foundation's Asia Region Programme Officer (Agricultural Development), said: "The toolkits, data, and other analytical outputs from the partnership will become useful resources for other researchers, stakeholders, and policymakers in the region and globally."
IFPRI Director (South Asia) Dr Shahidur Rashid said there is no visible shortage of food items and other commodities in the world.
Global, regional and bilateral diplomacies are the key to source required foods and other products from across the globe.
He added that despite all odds, the major grain and commodity exporting countries are raising their shipments, indicating a normalcy in trade.
Bangladesh has also conducted some G2G initiatives to source rice and wheat from the countries like India, Vietnam and others.
But G2G should be the last option to source food.
A timely diplomatic initiative could help the countries to avail commodities with active participation of the private sector, he opined.