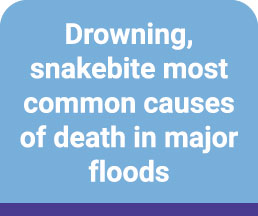 Germany will assist Bangladesh in health-management research to improve paramedical and medical emergency care during flood events, said health directorate office on Wednesday.
The researchers will help Bangladesh by investigating how people who are isolated during floods can best be protected.
Tens of thousands of people in Bangladesh, one of the world's most climate-vulnerable countries that is being hit by many natural disasters, are affected by floods, cyclones and other natural disasters every year.
During floods, access to healthcare is very limited when the affected population is isolated on a few remaining dry spots of land. This becomes especially critical in the case of emergency medical conditions that require very rapid interventions, says Prof M Robed Amin, a director at the Directorate General of Health Services (DGHS).
Data show that drowning and snakebite are the first and second most common causes of death in major floods, he continued. However, these are highly preventable deaths.
To this end, DGHS now collaborates with several other government, academic and NGO partners from Bangladesh and Germany in an interdisciplinary and inter-sectoral project called 'FlutNetz' (which translates to 'flood net' in English), said the official quoted in a statement by the DGHS.
The researchers will train paramedical and medical personnel as well as lay people of different age groups in various life-saving skills, to identify the most effective types of training for the different groups.
The project will operate and evaluate a new information centre focusing on animal bite and poisoning emergencies which has been missing in Bangladesh.
"This project creates an excellent opportunity to develop and scientifically test such a facility with a vision of turning it into a National Poison information Centre after the research phase," said Prof M Abul Faiz, president of the Toxicology Society of Bangladesh (TSB) and National Coordinator of FlutNetz.
Six projects of this kind worldwide were competitively selected by the International Disaster and Risk Management (lKARlM) research funding programme for Disaster Risk Reduction 2015-2030, according to the Coordinator of FlutNetz, Dr Ulrich Kuch (Goethe University Frankfurt).