FE REPORT
The government will not allow any building to use without fire safety measures and clearance certificate from the authority concerned, said State Minister for Disaster Management and Relief Dr Enamur Rahman on Friday evening.
"The government will not allow any building for use without fire safety protection. Fire safety is a must for new buildings. The city corporations or RAJUk will give approval for using the buildings having fire safety certificate," he said.
He was speaking at the safety excellent award ceremony during the 8th International Fire Safety and Security Expo-2022 organised by Electronics Safety and Security Association of Bangladesh (ESSAB) at Bangabandhu International Convention Centre (BICC) at Agargaon in the capital.
The junior minister said that out of 10 green factories in the world, eight are now in Bangladesh, citing the country is ahead compared to other countries on the compliance issue of fire safety and resulted in increased production at the local factories.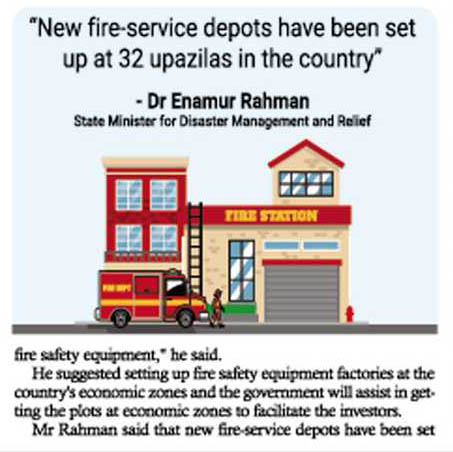 He said that most of the fire safety equipment are being imported.
"We don't want to remain as an import-oriented country of fire safety equipment," he said.
He suggested setting up fire safety equipment factories at the country's economic zones and the government will assist in getting the plots at economic zones to facilitate the investors.
Mr Rahman said that new fire-service depots have been set up at 32 upazilas in the country.
Vice-President of the Federation of Bangladesh Chambers of Commerce and Industry (FBCCI) Md Amin Helaly said that the country's apex trade body has taken initiatives for proving training on indoor and outdoor fire safety protection through the formation of FBCCI Fire Safety Council.
He underscored the need for setting up fire safety equipment producing factories at the economic zones aiming to reduce the country's dependency on import of fire safety equipment.
He suggested creating and providing fire service package (safety) for houses and small industries after collecting information and data.
Nine companies were given awards by ESSAB by the junior minister for maintaining fire safety measures properly.
He also handed over 13 crests to the members of the families of fire-fighters who died while performing duties during a devastating fire at BM Container Depot at Sitakundu in Chattogram.
Director (training, planning and development) of Fire Service and Civil Defense Lieutenant Colonel Rezaul Karim, president of ESSAB Jahir Uddin Babar and its senior VP Niaz Ali Chisti were present, among others.