---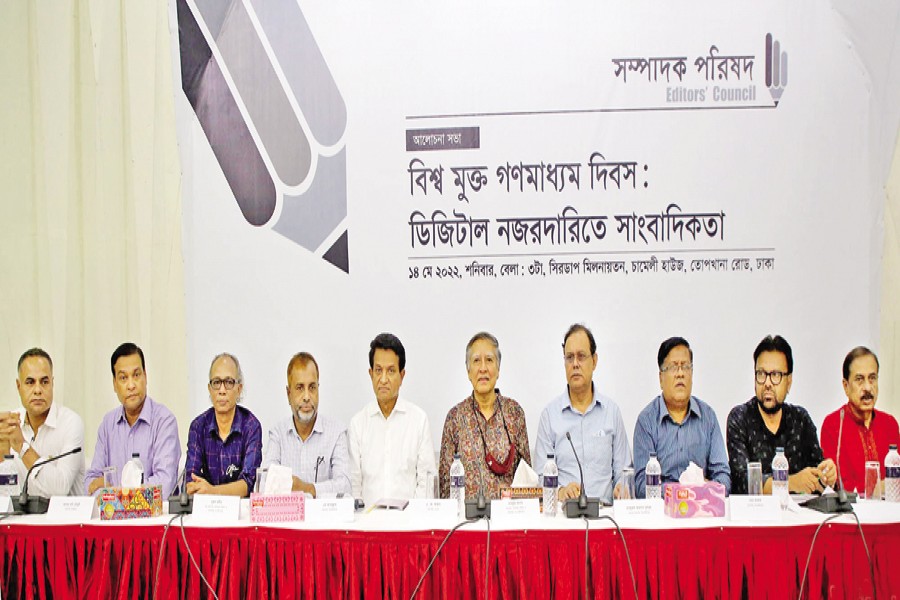 Editors, newspaper owners and union leaders at a discussion organised in observance of the World Press Freedom Day at the CIRDAP auditorium in the city on Saturday — Focus Bangla
Editors, newspaper owners and union leaders on Saturday called upon the journalists to remain united against all controversial acts hampering freedom of press.
They said various types of acts have been enacted one after another to establish control over the mass media and the laws created an atmosphere of fear against people practicing freedom of speech.
For ensuring a congenial atmosphere for journalists, they urged the journalists forgetting all divisions or differences of opinions to get united and force the authorities to amend the Digital Security Act 2018.
They made the call at a discussion organised to observe the World Press Freedom Day that was marked globally on May 3 with the theme of 'Journalism under Digital Siege', which came as a reminder to governments of the need to respect their commitment to press freedom.
The Editors' Council arranged the discussion chaired by its president and editor of The Daily Star Mahfuz Anam.
Mr. Anam raised a question over necessity of too many laws like official secrecy act, contempt of court act, defamation law, the ICT Act 2006 and Digital Security Act 2018, OTT law which are largely used against the freedom of speech.
The draft of data protection act was also made, he noted.
He urged the journalists to intensively analyse the Digital Security Act (DSA) that has 20 areas of punishing the reporters and 14 of them are non-bailable.
"This act (DSA) is a major impediment to the development of our profession. We need to go for scraping of the law unless it is not amended," the Editors' Council president said.
President of Newspaper Owners' Association of Bangladesh (NOAB) AK Azad said the area of newspapers is getting squeezed because of various factors like anti-press laws.
He called upon the journalists to step up with courage for ensuring favourable atmosphere for mass media.
Editor of New Age Nurul Kabir said the laws are not only used for harassing journalists but also have created a culture of fear, and a lack of unity to further intensify the level of fear.
"So, we need to be united with a comprehensive programme," he added.
Editor of Bhorer Kagoj Shyamal Dutta said freedom of press cannot be ensured amid such environment of "seize".
"So, we have to be united," he added.
Manabzamin editor Matiur Rahman Chowdhury said journalists cannot overcome the tougher situation if there is division. "We've to work together forgetting all kinds of division. Don't forget we're in a dangerous state," he mentioned.
Former BFUJ president Monjurul Ahsan Bulbul, BFUJ central committee president M Abdullah, BFUJ president Omar Faruk, DUJ leader Kader Gani Chowdhury and DRU president Nazrul Islam Mithu, among others, spoke at the event.