---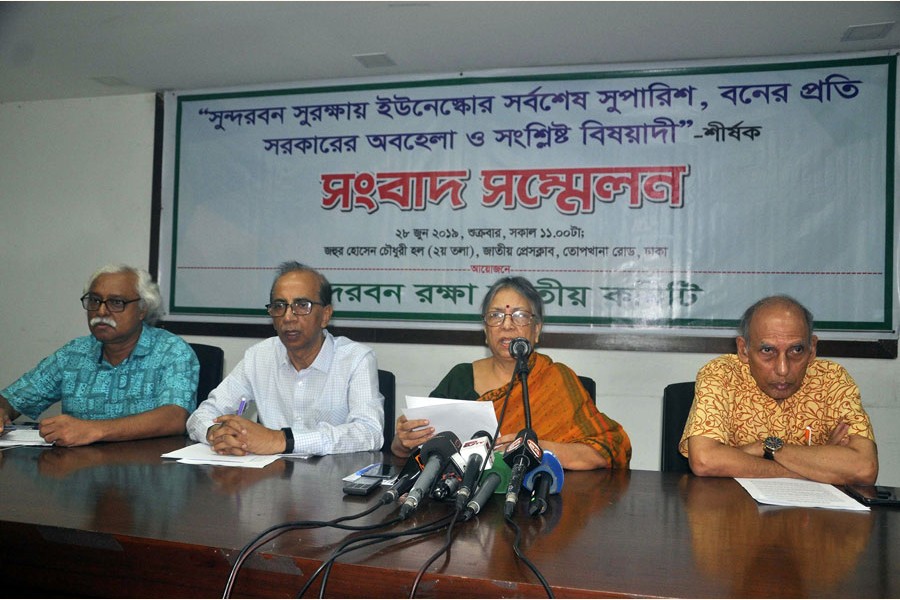 President of National Committee for Saving the Sundarbans Sultana Kamal speaking at a press conference on 'Preserving Sundarbans as a World Heritage Site' at the National Press Club in the city on Friday —FE photo
The government's decision to set-up a coal-fired power plant at Rampal goes against the constitution, National Committee for Saving the Sundarbans (NCSS) president Sultana Kamal said on Friday, reports UNB.
"Although the constitution says that every decision will be made according to the people's choice, the government didn't seek public opinion before approving the Rampal project. It makes the project anti-constitutional which will push Sundarbans towards destruction," she said.
She made the remarks while speaking at a press conference on 'Preserving Sundarbans as a World Heritage Site' organised by NCSS at the National Press Club in the city.
Sultana Kamal, also the vice-president of Bangladesh Poribesh Andolon (BAPA), said approving mega projects surrounding the Sundarbans is a sign of incompetence of the government.
She expressed concern saying that if UNESCO's recommendations are accepted in the World Heritage Committee's 43rd meeting scheduled to start from June 30 in Azerbaijan, then Sundarbans might lose its status as a World Heritage Site.
She urged the government to cancel the Rampal Power Plant project and takestrong actions for preserving Sundarbans and its wildlife.
"Sundarbans is a national treasure. Nothing will be more saddening and insulting if we fail to save the Sundarbans," Sultana Kamal said.
---
---
---
---