---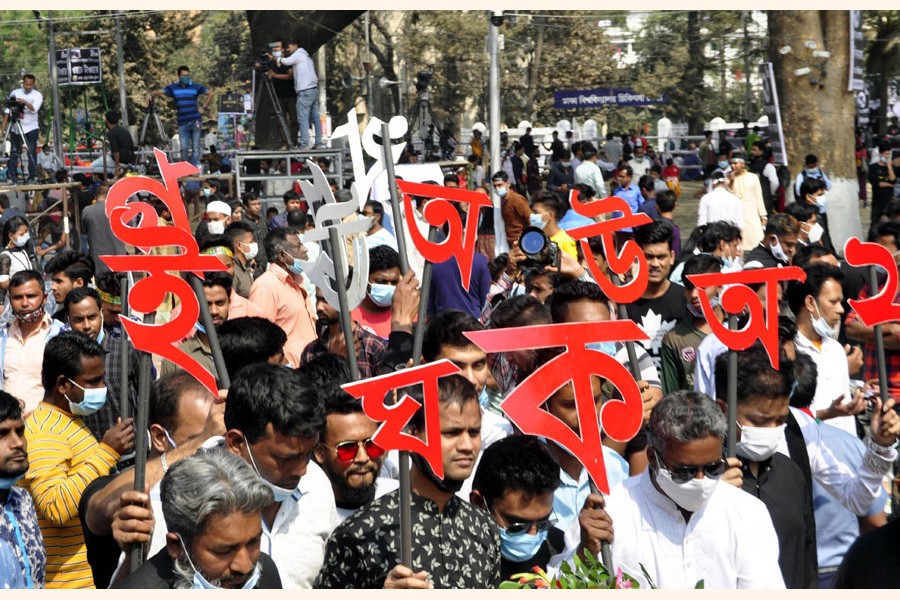 People thronged the Central Shaheed Minar in the city to pay homage to martyrs of the Language Movement, marking the Amar Ekushey on Sunday — Focus Bangla
The nation observed the Amar Ekushey - the Language Martyrs Day (Shaheed Day) and the International Mother Language Day - in a befitting manner on Sunday, marking the supreme sacrifice of the language heroes for upholding the right to speak in their mother tongue Bangla, reports UNB.
The day was observed around the world as UNESCO on November 17, 1999 recognised the Ekushey February as the International Mother Language Day.
On behalf of Prime Minister Sheikh Hasina, her Military Secretary Major General Naquib Ahmed Chowdhury paid homage to the martyrs of the Language Movement by placing wreath at the Central Shaheed Minar in Dhaka at one minute past midnight.
Later, on behalf of Awami League President Sheikh Hasina, the party's General Secretary Obaidul Quader along with presidium members Matia Chowdhury and Muhammad Faruk Khan, and Joint Secretary Dr Hasan Mahmud and Cultural Affairs Secretary Asim Kumar Ukil placed another wreath.
Walking barefoot to Dhaka's Central Shaheed Minar with wreaths and singing 'Amar Bhaiyer Rokte Rangano Ekushey February', people from all walks of life paid their respect to the heroes of the Language Movement who sacrificed their lives for achieving the recognition of Bangla as the state language of erstwhile Pakistan.
On February 21, 1952, students and the common people in Dhaka took to the streets in protest against the then Pakistani government's denial of Bangla as the national language and imposition of Urdu as the only official language of Pakistan.
Our Chattogram Correspondent adds: The International Mother Language Day was observed with due solemnity in the port city Chattogram on Sunday.
Different political parties, social organisations offered floral wreaths at the Shahid Minar. Policemen and members of the Rapid Action Battalion were deployed at the Chattogram Central Shahid Minar from Saturday.
---
---
---
---