---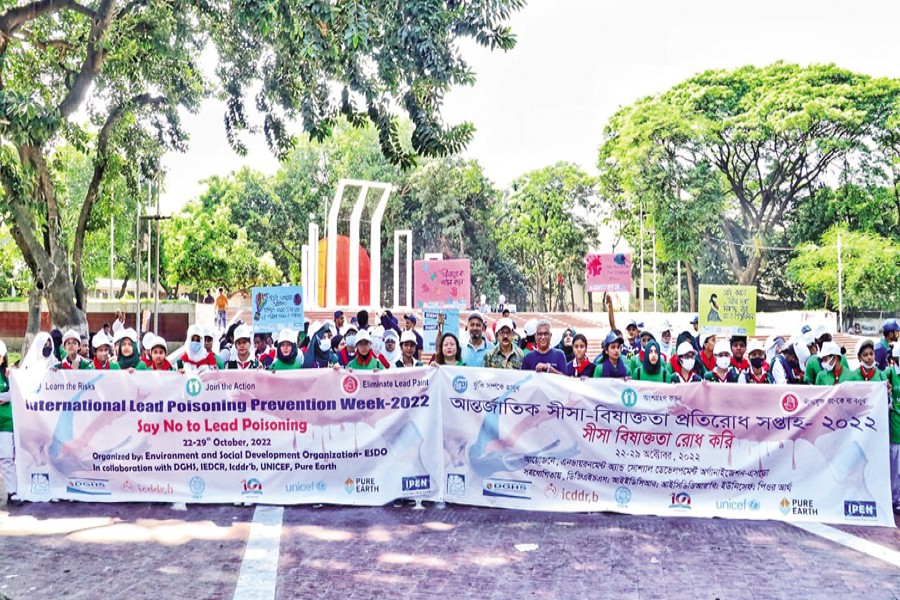 Environment and Social Development Organisation formed a human chain in front of the Central Shaheed Minar in the city on Saturday marking the International Lead Poisoning Prevention Week or 'ILPPW-2022 — Focus Bangla
FE REPORT
Youths in Bangladesh demanded banning production and use of lead-based paint as paints containing lead, a harmful element, remains a major source of potential lead poisoning for young children.
They made the call at a human chain formed in front of the National Press Club on Saturday marking the 'International Lead Poisoning Prevention Week' or 'ILPPW-2022'.
The theme of this year's global lead poisoning prevention week is 'Say No to Lead Poisoning'.
The human chain was followed by a rally which paraded different city streets. Environment and Social Development Organisation-ESDO in collaboration with DGHS, icddr'b, IEDCR, UNICEF, and Pure Earth organised the programmes.
Participants at the programmes chanted the slogan 'Say No to Lead Poisoning'.
Speakers at the human chain said lead paint is a major source of potential lead poisoning for young children.
The neurological, cardiovascular, gastrointestinal, and haematological systems are most affected by toxicant lead, which is well acknowledged to have negative effects on health, they said demanding a ban on all paints containing this toxic, insidious element which affects growth of brains of children, especially the young children, which may diminish their intellectual ability. They also called for the proper implementation of the existing law to prevent manufacturing and marketing of the lead-based paints.
Young children are especially vulnerable because they are exposed to lead at higher rates than adults.
Around 120 volunteers from the girl-guide and different universities joined the event, raising their voice for banning all lead-based paint in Bangladesh.
The rally ended at the Central Shaheed Minar with another human chain after parading High Court and Shishu Academy areas.
Representatives from different government organisations and departments, Pure Earth, UNICEF and journalists from different print and electronic media also attended the programmes.
The International Lead Poisoning Prevention Week of Action, co-led by the World Health Organization (WHO) and UN Environment Program - UNEP, was established to raise awareness of the widespread availability of lead paint.
Every year, the last week of October is observed as International Lead Poisoning Prevention Week (ILPPW). This year's theme "Say no to lead poisoning" acknowledges the increased urgency of action required to get rid of all sources of lead exposure.
In 2018, the Bangladesh Standards and Testing Institution (BSTI) finalised a standard for the paint manufacturing industry setting the limit of harmful lead content for household paint at a maximum of 90 ppm (parts per million).
According to WHO "Children are more likely to be exposed to lead through the ingestion of dust and flakes from decaying lead-based paint, which affects their brains development and intelligence.
According to the estimates, lead exposure in youngsters causes 600,000 new cases of intellectual disability each year."