---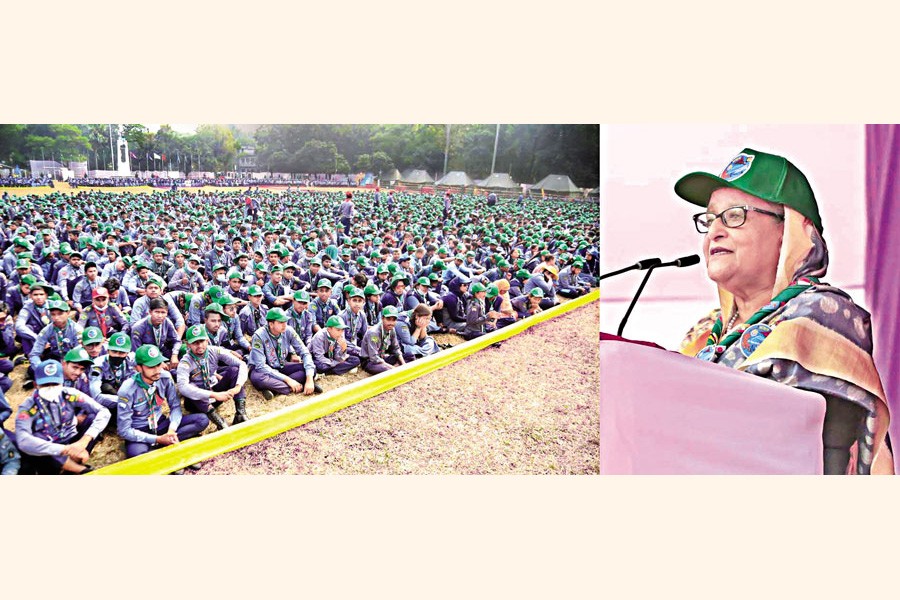 Prime Minister Sheikh Hasina addressing the concluding ceremony of the 32nd Asia-Pacific Scout Jamboree and 11th National Scout Jamboree 2023 at the National Scouts Training Centre at Mouchak in Gazipur on Wednesday — PID
GAZIPUR, Jan 25 (UNB): Prime Minister (PM) Sheikh Hasina on Wednesday asked the authorities concerned to take steps for imparting scout training to students in the country's educational institutions to develop them as worthy citizens for building Smart Bangladesh.
"You will have to take steps so that every student of all educational institutes would obtain scouting training. If so, I believe the worthy citizens would be developed in our country for building Sonar Bangla (golden Bengal) or smart Bangladesh," she said pointing at Bangladesh Scouts and the ministries related to education.
The premier said this at the concluding ceremony of the 32nd Asia-Pacific and 11th National Scout Jamboree at National Scout Training Center, Mouchak, Gazipur.
Bangladesh Scouts is hosting the 9-day regional and national scout jamboree from 19-27 January 2023.
Noting that there are now 2.2 million (22 lakh) scouts in Bangladesh and a target to raise it to 3.0 million by 2030, the PM said she wants every student to get scout training not only a selective group.
In the event, the PM unveiled a commemorative postage stamp marking the regional and national jamboree.
PM's former principal secretary Md Abul Kalam Azad, who is also President of Bangladesh Scouts, also spoke at the event, while Dr Mozammel Haque Khan, Chairman of Jamboree Organising Committee and also Chief National Commissioner of Bangladesh Scouts, delivered the welcome speech.
About 11,000 scouts including 8,000 scout members, 1,000 unit leaders and international service team (IST) members from Asia Pacific region particularly from Bangladesh, India, Nepal, the Maldives, the Philippines, China, Taiwan, Thailand, South Korea, USA, Canada and Germany participated in this jamboree.
Describing today's children as the vanguards of Vision 2041, the prime minister asked to groom themselves with liberal mindset and stay away from all sorts of corruption, superstition, fanaticism and terrorism.
She said Bangladesh attained the status of a developing country during the golden jubilee celebration of its independence in 2021. "But we should not remain stagnant at this stage. Bangladesh will have to advance a long way. Bangladesh would be a hunger-poverty free, developed, prosperous, information and knowledge equipped nation, which would be a smart nation by 2041," she added.
The PM said there would be a smart population from every aspect in the smart Bangladesh.
"Everyone will have to keep liberal mind and stay free from all sorts of corruption, superstition, fanaticism and terrorism. We want to build Bangladesh in such a way. That is our goal. So, I want our children to groom themselves in this way," she said. The PM said scouting imparts the young generation with ethical and practical training, which help develop modern, creative and progressive minds among the youths.
So, the scout members are becoming dedicated to serve the people and developing themselves as conscious and patriotic citizens, she said.
She said the scout members are making a special contribution in the field of social service as philanthropists, and leaving a commendable role. The scout members were seen working sincerely in the society on different occasions. "I want this scout movement to be developed in our country in a larger way," she added.