---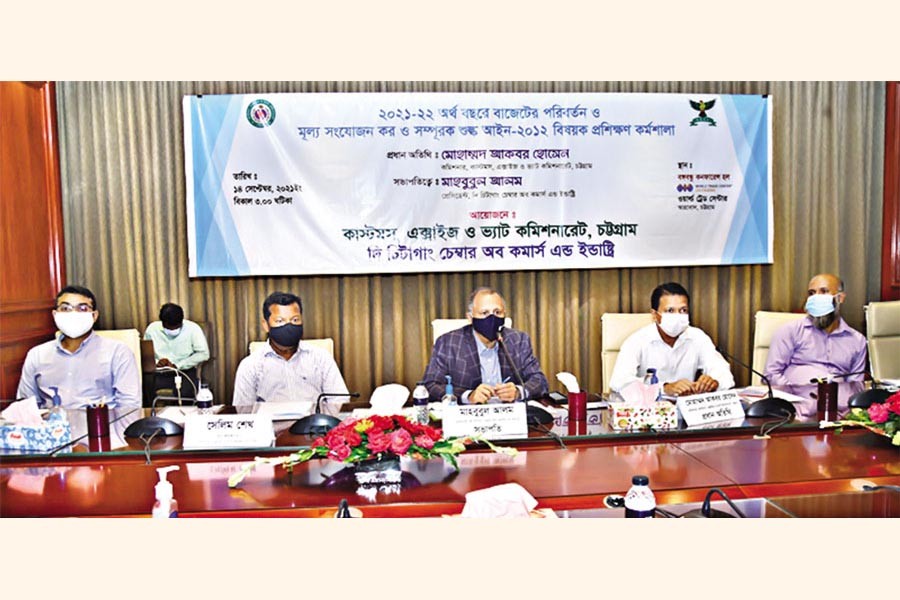 Chittagong Chamber of Commerce and Industry President Mahbubul Alam at a workshop at the Bangabanddhu Conference Hall of CCCI's World Trade Centre in the port city on Tuesday —FE Photo
CHATTOGRAM, Sept 14: A speaker at a workshop in the port city on Tuesday said training will help tax payers pay the taxes online. He noted that following receiving training a tax payer can also submit returns online, adding that harassment of stakeholders can also be removed by increasing coordination among officials and stakeholders through training.
The remarks were made at a day-long workshop, jointly organised by the Chittagong Chamber of Commerce and Industry (CCCI) and Customs, Excise and VAT Commissionerate of Chattogram on "VAT and Supplementary Duty Act 2012" at the Bangabanddhu Conference Hall of CCCI's World Trade Centre (WTC) in the port city on Tuesday.
Chaired by CCCI President Mahbubul Alam, the training workshop was inaugurated by Customs, Excise and VAT Commissioner, Chattogram, Mohammed Akber Hossain as the chief guest.
Joint commissioners of Customs, Excise and VAT Commissionerate Md Mushfiqur Rahman and Selim Sheikh, deputy commissioners Md Shahinur Kabir Pavel and Fatema Khairun Noor, Revenue Officer Abu Hena Mostafa Kamal and Assistant Revenue Officer Foyej Ahamed were also present and addressed the workshop.
In his address, Mohammed Akber Hossain said, "The training will help the tax payers pay taxes online. They can submit the returns online. Harassment of stakeholders will be removed if coordination among the officials and stakeholders is increased through training."
Addressing the function, Mahbubul Alam said, "Training can make a person skilled and experienced. Training is very important to compete with the world of business. CCCI will arrange such types of programmes for increasing skills of concerned officials and business people."
---
---
---
---