Uncertainty looms over this year's Hajj for coronavirus pandemic
Number of Bangladeshis getting registered is low
---
---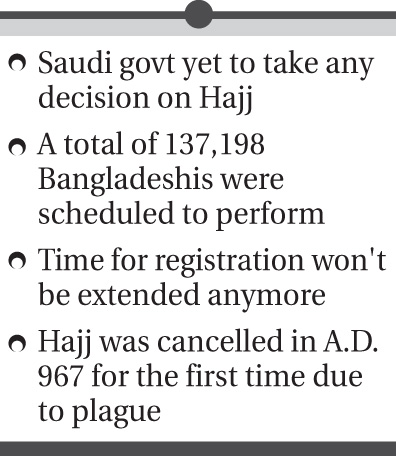 Although millions of Muslims across the world, including those from Bangladesh, have eagerly been waiting to perform Hajj in late July this year, uncertainty looms large over their largest congregation as the Saudi government is yet to take any decision in this regard as the coronavirus pandemic keeps on deteriorating, reports UNB.
Amid speculations that the holy Hajj might be cancelled this year as coronavirus spread to most countries of the world, Saudi Arabia on March 31 urged Muslims to delay their plans for Hajj.
Talking to the news agency, State Minister for Religious Affairs Sheikh Md Abdullah said the Saudi government is yet to take any decision over Hajj this year.
"Now it depends on Saudi government's decision and the coronavirus situation," he said.
A total of 137,198 Bangladesh nationals were scheduled to go to Saudi Arabia to perform Hajj this year with 17,198 under government and 120,000 under non-government management, officials said. According to the Religious Affairs Ministry, 64,594 people have so far registered to perform Hajj this year - 3,457 under government management and 61,594 under private management.
Asked about registration for Hajj, Abdullah said, "Amid the coronavirus pandemic, the registration process is on as we can send people to the pilgrimage after the announcement of the Saudi government."
However, the number of people getting registered for Hajj is low this year due to uncertainty over amid the pandemic.
Religious Affairs Secretary Nurul Islam told the news agency tha the time for registration will not be extended anymore due to the coronavirus situation.
---
---
---
---