---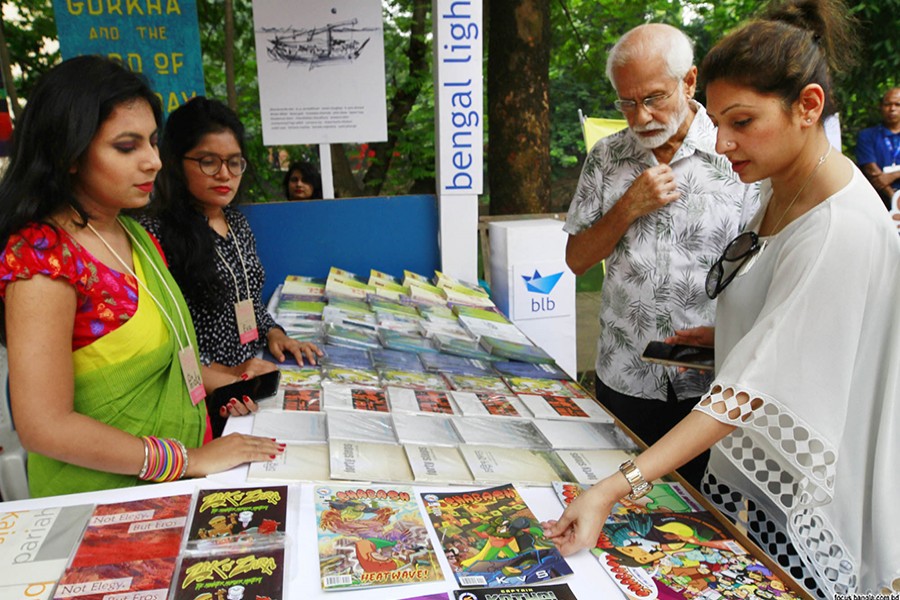 Book connoisseurs at a stall at Bangla Academy's Abdul Karim Sahitya Bisharad Auditorium in the city on Friday, marking the ninth edition of the Dhaka Lit Fest (DLF) — Focus Bangla
'Preema Donna - An Infinite Journey', a book by prominent Bangladeshi visual artist Nazia Andaleeb Preema, was unveiled at the Dhaka Lit Fest on Friday, reports UNB.
Published and produced by Cosmos Books, the book's foreword has been written by National Professor Dr Anisuzzaman.
The book, divided into five chapters, depicts Preema's artistic journey of two decades. 'Preema Donna - An Infinite Journey' also illustrates Preema's brave approach of aesthetical vision that depicts her philosophy of context.
"This publication is my inspiration to be more committed towards my intense journey of creativity," said Preema. She dedicated the book to the next generation of creative minds to proceed with their passion in art.
Preema graduated from the Dhaka University with a Masters of Fine Arts degree in drawing and painting.
She represented Bangladesh at La Biennale di Venezia this year. She won various awards, along with the BASIS award in the Visual Arts category and Anannya award for being an outstanding woman in the creative field.
---
---
---
---