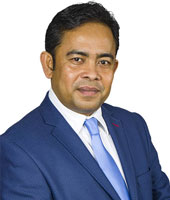 Abul Kalam Azad
Abul Kalam Azad Talukder, a Bangladeshi immigrant in Ireland, has been contesting the upcoming local election there.
The Fianna Fail party has nominated him to run in the election to Limerick City and County Council.
Mr Talukder has become the first Bangladeshi as well as the first Muslim to run for the post of a councillor in Ireland's local polls to be held on May 24.
Talking to the FE over phone, Mr Talukder sought cooperation from the Bangladeshi community in Ireland and blessings from the countrymen.
Presently, Bangladesh does not have any embassy in Ireland.
"If elected, I will try my best to forge a bilateral relationship between Ireland and Bangladesh," he said.
Boosting bilateral trade and strengthening cooperation between the two countries would also be taken into consideration, he added.
A total of 92 candidates are vying for 40 seats in six local electoral areas within Limerick City and County Council.
Mr Talukder is contesting from Limerick City West area where a total of 19 contenders, including him, are vying for seven posts of councillors.
Hailing from Gazipur in Bangladesh, Mr Talukder, 50, has been living in Limerick area for over the past 19 years since 2000.
He is based at Steamboat Quay and is known as Jackie to his friends.
He is a leading member of the Muslim community in Limerick and runs a number of businesses in the city.
He will be a running mate of incumbent mayor James Collins, who is also a general election candidate, as well as sitting councillor Sean Lynch.
Mr Talukder, the father-of-two, initially worked at the Stables Bar in the University of Limerick before opening his businesses across the city. He also operates taxi.
"I came to Limerick empty-handed. I did a lot of hard work and Ireland and Limerick have given me a lot. I think it's my turn now to give something back," he said.
Mr Talukder worked with Fianna Fail since 2004, initially with former TD Peter Power, aiding the migrant community.
His father was a politician in Dhaka. Mr Talukder is now hoping to become the first Muslim elected to Limerick City and County Council.
Azizjst@yahoo.com