---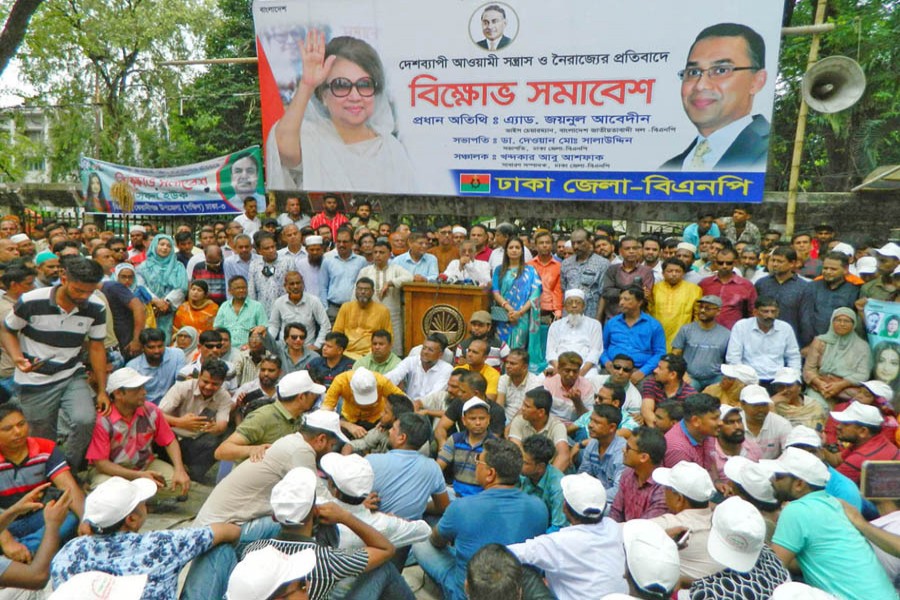 BNP Vice-chairman Advocate Zainul Abedin addressing a rally in front of the National Press Club in the city on Saturday — FE Photo
BNP Vice-Chairman Advocate Zainul Abedin on Saturday said their party will no longer join any election on the 'false' assurance of the government, reports UNB.
"You (govt) are making unnecessary efforts to bring BNP to the polls. You thought you would be able to take BNP to the election again with false assurances, but it won't happen," he said.
Zainul, also a former president of the Supreme Court Bar Association, was addressing a rally in front of the Jatiya Press Club.
As part of the party's countrywide programme, BNP's Dhaka district unit arranged the rally in protest against what the party said continuous attacks on opposition leaders by ruling party 'cadres' in different parts of the country, including Cumilla.
Zainul said it is heard the policymakers of the government are preparing an election roadmap. "This is not an electoral roadmap. It's a roadmap on how the unelected government will escape from Bangladesh."
Mentioning that a plot is on to split BNP, he warned those who will betray the party driven by their greed of taking benefits from the current government will face dire consequences. "The traitors won't get any place in Bangladesh.
The BNP leader said the conspirators will not be able to split and weaken their party as people are with them. "You (govt) won't be able to split BNP, no matter how hard you try."
Referring to the ruling party leaders' comment that a plot is going on to oust the current government, he said it is a movement of people, not any conspiracy, to ensure the fall of the current regime. "The people of Bangladesh have woken up and they're on a movement for your downfall. This movement cannot be stopped by talking about a conspiracy."
The BNP leader also slammed the government for what he said its failure to control the price hike of daily essentials. "The government has increased the prices of all commodities by creating a syndicate to plunder public money," he alleged.