---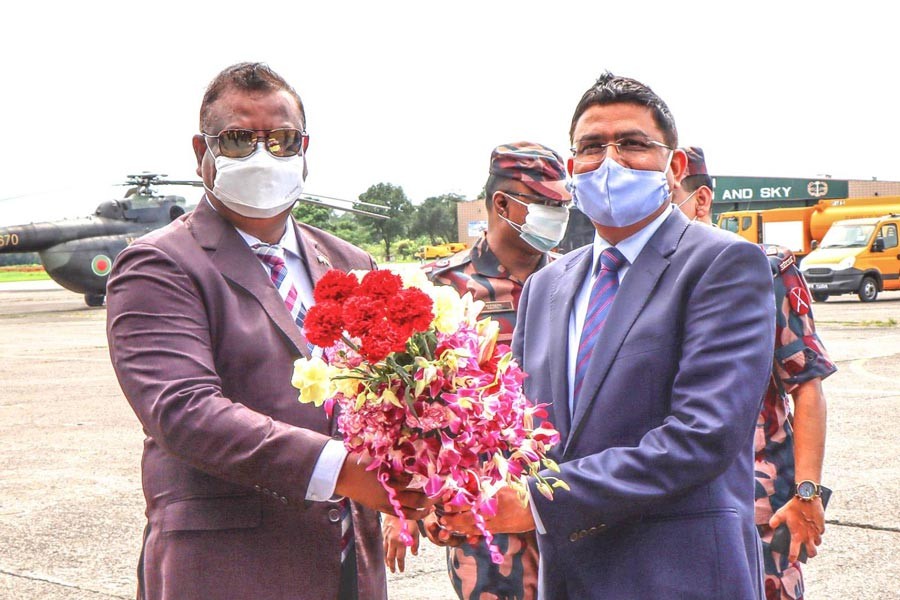 Border Guard Bangladesh DG Major General Md Shafeenul Islam (Left) receiving Indian Border Security Force DG Rakesh Asthana with a bouquet upon the latter's arrival in the city on Wednesday to join a four-day conference between Bangladeshi and Indian border forces that is set to begin today (Thursday)
Indian Border Security Force (BSF) Director General (DG) Rakesh Asthana arrived in the city on Wednesday to join a four-day border conference between Bangladeshi and Indian border forces which will formally begin today (Thursday) at the Border Guard Bangladesh (BGB) headquarters in the capital. Reports BSS.
"A six-member BSF delegation led by its DG Rakesh Asthana arrived in the city by a BGB helicopter entering Bangladesh through Akhaura Integrated Check Post (ICP) to join the (rescheduled) BGB-BSF four-day DG level boarder conference (from September 16 to 19) ," said a BGB press release.
The formal meeting will start at 10:45am at the conference room in the BGB headquarters in the city, earlier said another BGB press release on Tuesday.
According to the release, BGB Director General (DG) Major General Md Shafeenul Islam will lead a 13-member Bangladesh delegation while his BSF counterpart Rakesh Asthana will lead the six-member delegation in the conference.
The conference will conclude with the signing of a Joint Record of Discussions (JRD) on September 19.
The BGB-BSF DG Level Talks (DGLTs) were scheduled for September 13-18, but it was postponed on September 13 as the BSF delegation could not reach Dhaka on the day due to a technical glitch in their aircraft.
According to officials, the issue of killings on the border is likely to dominate largely the talks between Bangladeshi and Indian border forces as chiefs of the two paramilitary forces are set to meet in the four-day conference.
"Border killing is an important issue for us," a BGB official told BSS on September 11, adding that until August this year, 33 Bangladeshis were killed on Bangladesh-India frontiers.
Talking to the news agency, BGB's operations director Lieutenant Colonel Fayzur Rahman said Bangladesh always laid high importance to violence on the borders as after any incident of killing on borders "we start talks at all levels".
He said protests are lodged at flag meetings with Boarder Security Force (BSF) at the camp level on the frontiers, while the issue is raised up to the foreign ministry for diplomatic initiatives to stop the phenomenon.