---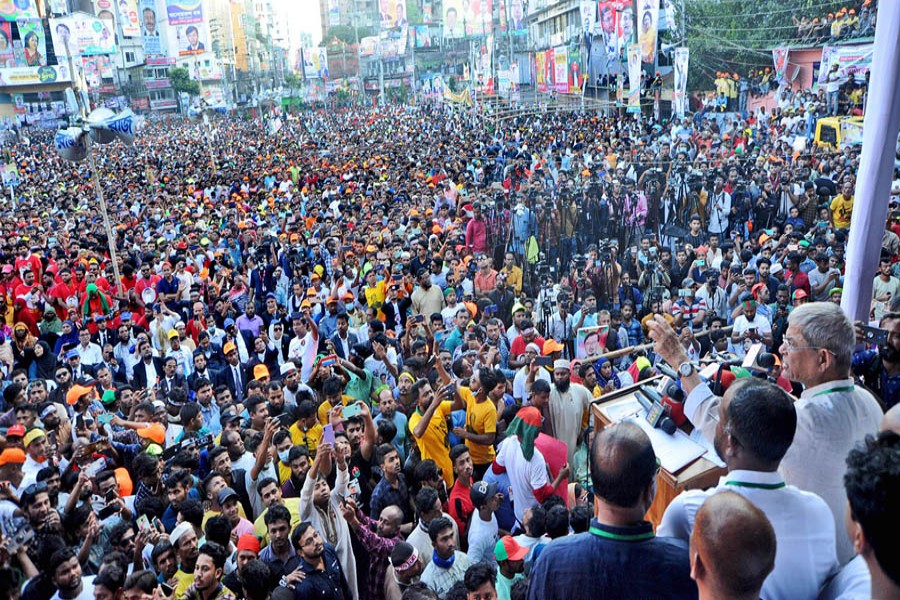 BNP Secretary General Mirza Fakhrul Islam Alamgir speaking at a rally of the party in Cumilla Town Hall field on Saturday — Focus Bangla
CUMILLA, Nov 26 (UNB): BNP Secretary General Mirza Fakhrul Islam Alamgir on Saturday alleged the government is plotting to cross the hurdles of the next election easily by promptly jailing senior leaders of their party in 'false' cases and making them unfit for polls like its Chairperson Khaleda Zia.
Speaking at a huge public rally here, he also equivocally said no election will be held in Bangladesh as long as Prime Minister Sheikh Hasina steps down by handing over power to a non-party caretaker government.
"This regime has not kept anything unharmed. We don't now get justice. They file false, fabricated and fictitious cases against us and convict us. Our all senior leaders have been facing 10-60 cases," the BNP leader said.
Fakhrul said the government is now trying to hasten the trial process of the 'false' cases filed against the BNP leaders. "This means that they (govt) want to easily overcome the hurdles of election by throwing those of us now leading the movement in jail the way our leader Khaleda Zia was jailed by convicting her in false cases."
He, however, warned that the country's people will not let the government this time hold any more lopsided national elections.
As part of BNP's divisional programme, the party's Cumilla city unit arranged the rally on Cumilla Town Hall ground.
Thousands of leaders and activists of BNP and its associate bodies joined the rally in Cumilla amid relative ease with no transport strike this time.
The rally venue was teeming with the opposition leaders and activists since morning as they gathered there from the different upazilas of Cumilla and its adjoining districts, including Brahmanbaria and Chandpur.
Unlike the party's previous such rallies in other divisions, BNP leaders and followers faced fewer hassles in Cumilla to join the programme as no transport strike has been enforced here.
The rally in Cumilla was the 8th one by the BNP at the divisional level after 7 others were held in Chattogram, Mymensingh, Khulna, Rangpur, Barishal, Faridpur and Sylhet.
BNP activists were seen coming to the rally venue in processions chanting various anti-government slogans since early morning.
The organisers said the rally was meant to denounce the price hike of daily essentials and fuels, the death of five party men in previous police action in Bhola, Narayanganj, Munshiganj, Brahmanbaria and Jashore to ensure the freedom of BNP Chairperson Khaleda Zia.
The BNP has long been demanding that the next general election be held under a caretaker government, not under any political government--a demand sharply rejected by the ruling Awami League as the constitution does not allow it to happen.