Student politics imperative for country's betterment
Speakers tell Shujan roundtable
---
---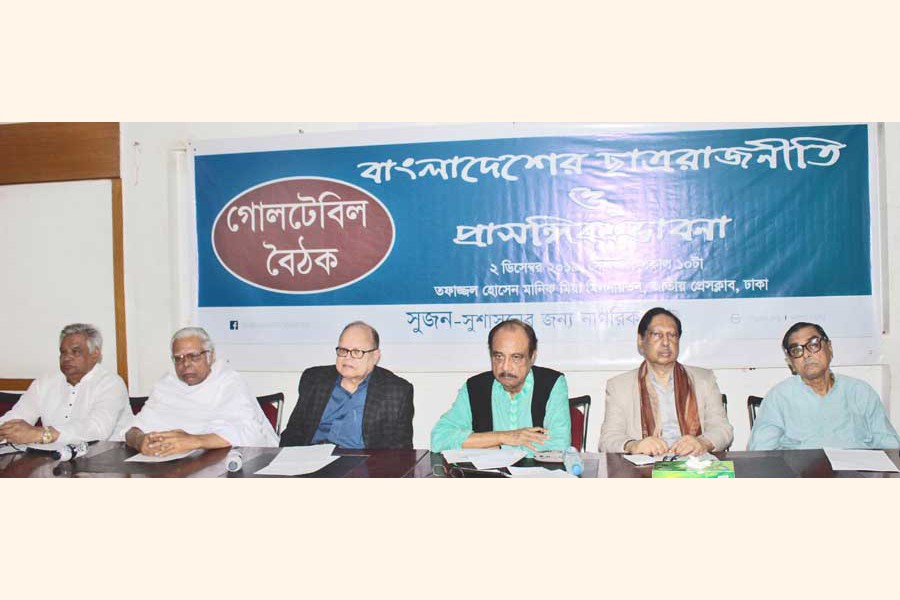 Participants at a roundtable discussion on "Student Politics of Bangladesh and Relevant Thoughts" organised by Sushashoner Jonno Nagorik (Shujan) at the National Press Club in the city on Monday — Focus Bangla
Noting that student politics is imperative because of its significance, current and former student leaders of the country on Monday called for its continuation for the sake of the country's betterment, reports UNB.
Speaking at a roundtable discussion titled "Student Politics of Bangladesh and Relevant Thoughts" arranged by Sushashoner Jonno Nagorik (Shujan) at the National Press Club, they also sought more tolerance and inclusiveness in student politics on campuses of all the educational institutions.
President of Jatiya Samajtantrik Dal (JSD) ASM Abdur Rob said it is student politics which gave birth to this country and it must continue for the sake of independence. "In order to protect the country's sovereignty and independence and establish democracy, there's no alternative but to keep student politics alive," he said.
Workers Party President Rashed Khan Menon said student politics will flourish in the country if it is freed from the organisational control of mainstream political parties.
President of Communist Party of Bangladesh (CPB) Mujahidul Islam Selim said not everything about country's student politics is completely degraded.
"Not everything is lost in the dark. There would have been no Shahbagh movement, quota reform movement, safe road movement or the trial of Abrar murder (had there been no student politics)," he said.
He further said politics and the administrative sector of Dhaka University (DU) are confined to a syndicate.
"This syndicate controls everything there. Teachers, students, officials...many are part of it. You can't represent students without crushing this syndicate," he said.
Selim suggested forming a council of former vice-presidents and general secretaries of Dhaka University Central Students' Union (Ducsu) to guide the upcoming leaders of the body.
Incumbent DUCSU Vice-president Nurul Huq Nur said the standard of student politics in the country deteriorated after the 90s.
---
---
---
---