---
"Amar Bhaiyer Rokte Rangano"-famed eminent lyricist, journalist, political analyst, columnist and writer Abdul Gaffar Chowdhury passed away in London on May 19. He was 88.
He died of a cardiac arrest at a hospital in London.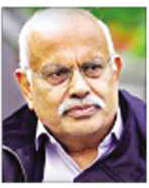 Gaffar Chowdhury is best known for writing the lyrics of "Amar Bhaier Rokte Rangano" which is widely celebrated song commemorating the Bengali Language Movement.
Born in the Ulania village in Mehendiganj, Barisal to Hazi Wahed Reza Choudhury and Zohra Khatun on December 12, 1934, Chowdhury completed his Intermediate Examination from Dhaka College in 1953 and BA from Dhaka University in 1959.
---
---
---
---