---
Mahbub Jamil, a businessman and a cultural personality, who was also part of the Fakhruddin Ahmed-led caretaker government, died in hospital care on November 16 at the age of 83.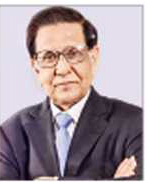 Jamil was appointed as a special assistant to the chief adviser of the caretaker government, Fakhruddin Ahmed, with the rank of a minister in 2008. He was in charge of the Ministry of Industry, the Ministry of Civil Aviation and Tourism and the Ministry of Sports and Youth Affairs.
Jamil also served as chairman of Singer Bangladesh Ltd, International Leasing and Financial Services Ltd, ICE Retail Initiative Ltd and IL Capital Ltd. He was appointed as an adviser to the Board of Directors of Robi Axiata in 2011.
---
---
---
---