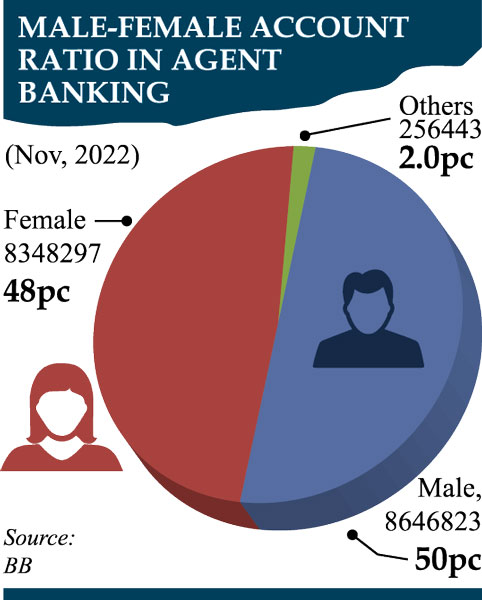 Agent banking introduced in 2013 as a means to provide limited-scale formal banking service at the doorsteps of the underserved population has made spectacular progress during the last nine years.
When Bank Asia, a leading private sector bank, first came up to introduce agent banks, many doubted its success. But, it did not take too long a time to prove the doubters wrong. As the initiator of the move had been expanding its programme at a slow but steady pace, others in the industry started taking interest in it and joined one by one.
Thus, agent banks have now become a force to reckon with. Thousands of low-income men and women living in rural areas having no bank branches are now enjoying formal banking services without any hassle.
The mobile financial service (MFS), undoubtedly, has brought about a revolutionary change in financial transactions across the country. And agent banking emerged next. These two together have opened up a new horizon to millions of unbanked people. A few statistics should be enough to show the high pace of growth of agent banking.
A total of 31 banks---30 private banks and one state-owned bank---are now offering agent banking services through 14663 agents. The number of accounts with 20177 agent banking outlets stood at nearly 17 million, including 8.2 million accounts belonging to women, until September 2022.
Of the total accounts, thus, 50.07 per cent belonged to men and 48.84 per cent to women.
Naturally, the agent banking operation has a rural bias. And that is what the initiator/s of the programme had preached. Over 86 per cent of accounts are in rural areas and nearly 14 per cent in urban centres. Naturally, rural accounts would fetch the lion's share of the deposit---79 per cent.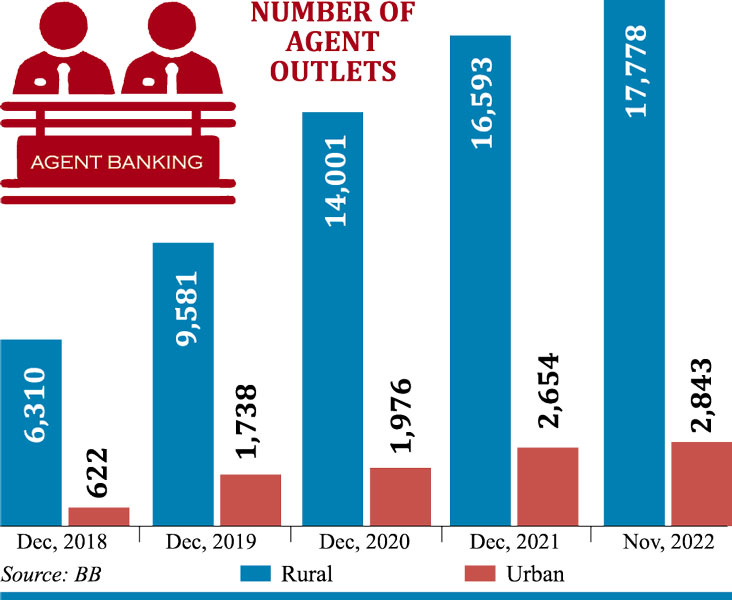 Though the number of accounts belonging to women is almost equivalent to that of males, the contribution of the former to the deposit of agent banks is far less than the latter. And that is not without a reason. In the male-dominated society of Bangladesh, women own a lesser volume of resources.
With lending, the bias against rural areas and women is very much clear. The practice does not differ from what is observed with conventional banking operations. Only 11.46 per cent of money lent by agent banks went to female account holders though they own nearly half of all accounts.
Similarly, of the money advanced up to September last by agent banks, one-third was disbursed in urban areas having only 14 per cent of accounts.

There is another issue---transfer of resources from rural areas to urban centres--- the central bank should look into. Until September 2022 the agent banks fetched deposits worth over Tk 306 billion, while they disbursed only Tk 88 billion as loans.
The growth of agent banks shows there is a great potential to bring in millions of marginal and rural people under formal banking services. But the regulator and banks concerned should identify and address the issues that might one day stall the progress of this unique banking system.