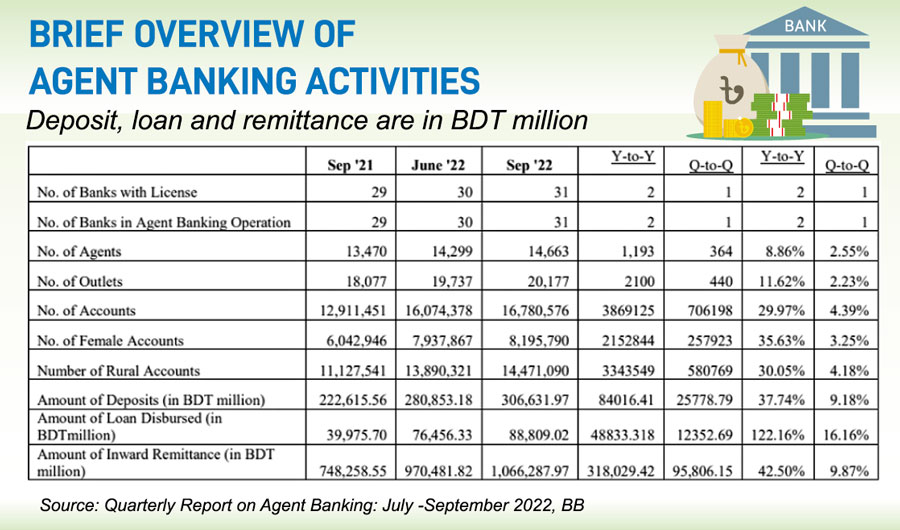 Fast-growing agent banking has helped develop entrepreneurship particularly in rural areas of Bangladesh along with boosting financial inclusion initiatives through bringing more unbanked people into the banking network.
Nearly 17 million accounts have been opened through 20,177 agent points of 31 scheduled banks since inception of agent banking on January 17, 2014 in Bangladesh.
The account opening figures indicate that there is a remarkable potential to bring the rural unbanked people under the umbrella of formal banking services which will also help achieve Sustainable Development Goals (SDGs) by 2030.
The SDGs include 17 goals and 169 targets that set out quantitative and qualitative objectives aiming to end poverty, protect the planet and ensure that all people enjoy peace and prosperity.
Actually, agent banking is playing a pivotal role in providing adequate financial services, especially for rural women, small business entrepreneurs and beneficiaries of remitters.
More than 20,000 entrepreneurs including a certain number of women have already been developed particularly in rural areas during the last nine years following the introduction of the agent banking operations in Bangladesh.
Earlier on December 09, 2013, Bangladesh Bank (BB) had paved the way for inroducing the agent banking by issuing a guideline for the first time in Bangladesh under the leadership of the then Governor Dr. Atiur Rahman.
Development economist Professor Rahman took the initiative aiming to boost the financial inclusion campaign through providing a safe alternate delivery channel (ADC) of banking services to the under-served population who generally live in geographically remote locations that are beyond the reach of the formal banking networks.
Actually, the central bank of Bangladesh had issued the guidelines to provide a regulatory framework for the agent banking, which will create an enabling environment for offering such ADC services to the new target group of Bangladesh.
Bangladesh's all scheduled banks have been allowed to launch their agent banking operations to help bring dynamism in the country's rural economy by offering ADC services using the latest financial technology (FinTech) to the new target group, who are living in remote and hill areas of Bangladesh.
FinTech is the new technology and innovation that aims to compete with traditional financial methods in the delivery of financial services using smartphones or the internet.
After more than one month of issuing the guidelines of the central bank, Bank Asia Limited introduced its agent banking services for the first time in Bangladesh on January 17, 2014, aiming to help minimise social inequality through empowering particularly the small and vulnerable income groups across the country.
Bank Asia is committed to providing services to all segments of society, including the masses and marginalised people in rural and remotest parts of the country.
Bank Asia along with other 30 banks are also committed to extend their ADC services to facilitate financial activities of the target group particularly women empowerment with developing rural entrepreneurship in Bangladesh.
The entrepreneurs are playing an important role for women empowerment in rural areas across the country through offering financial support to set up micro, cottage and small enterprises.
But the lending portfolio of the agent banking is still much lower than deposits as most banks have yet to develop feasible infrastructures for loan disbursement and recovery through their agent outlets.
The report on state of agent banking, prepared for the July-September 2022 period, by the central bank of Bangladesh, shows the loan-to-deposit ratio in the agent-banking system now nearly 29 per cent although it is around 78 per cent on average in traditional banking.
Considering the overall situation, policy makers should act on how each agent point turns into an entrepreneurship development center for boosting the ongoing entrepreneurship development initiatives across the country.
In that case, the policy makers may offer cash incentives or special refinancing schemes to the banks, which are running agent banking operations, to encourage them to invest more in the 'supervisory credit'.
Entrepreneurship is widely characterized as a driver for economic and employment growth, and as an enabler for individual empowerment, self-sufficient and sustainable development. It is viewed as a crucial part of innovation policy that can stimulate 'productivity and economic competitiveness'.