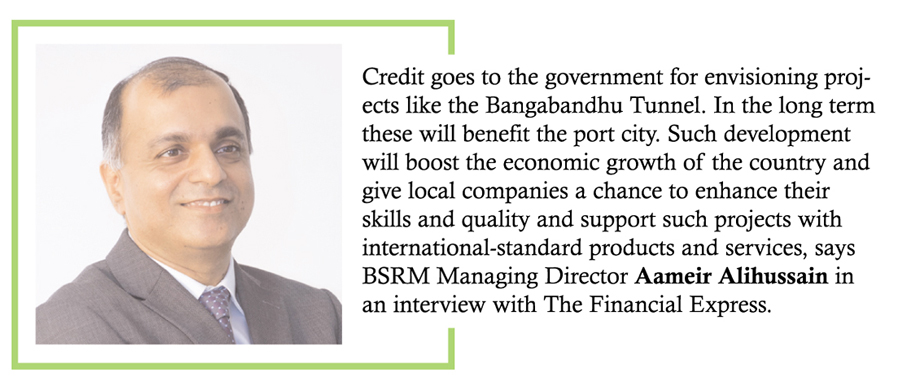 The full excerpts of the interview are as follows:
1: What will be the benefit of the Bangabandhu tunnel for the communication sector?
Ans: The Bangabandhu Tunnel will have a positive impact on the communication sector by improving connectivity between the districts of Chattogram and Cox's Bazar. This enhanced transportation link will lead to faster and more efficient movement of people and goods, stimulating economic growth. It is a step towards converting Chattogram into a complete business zone. The tunnel will help bring about a significant change in trade and commerce by allowing enhanced utilisation of the bank of the river Karnaphuli. This will increase the commercial opportunities as the 760-acre industrial zone in Anwara is already on its way. The tunnel will also lessen the port city traffic, as vehicles will reach Cox's Bazar and South Chattogram by using the outer ring road. However, for any infrastructure project, it is important to also complete all other adjacent infrastructure projects to take the full benefit. In the initial period, mostly citizens will be using the tunnel with little commercial transport. This tunnel should be connected with a nice 4-lane or 6-lane road going towards Matarbari and Cox's Bazar but that is still far away. Industrial zones should have been there with full utilities and factories should have been set up there to take the transport advantage. Reduction in transport cost is what one would like to see with attainment of such an infrastructural milestone.
2: Is it possible to build Chattogram as 'one city, two towns'?
Ans: The concept of "One City, Two Towns" is a governance model that has been implemented in various regions, most notably in China, Korea, etc. However, applying such a model to a specific city or region depends on various factors, including local governance, political decisions, and the unique circumstances of the place in question.
In the case of Chattogram in Bangladesh, it would ultimately be a decision made by the Bangladesh government and local authorities. They will decide on whether they will adopt the "One City, Two Towns" approach. This model typically necessitates looking at the whole area as an integrated area. Therefore, in future, more tunnels or bridges will be needed to connect both sides of the river and extend the coverage of the city corporation, the Chattogram Development Authority (CDA) and other utilities. This is definitely possible and Chattogram needs to be expanded to handle more migrant population in future.
3: Do you think after opening of the Bangabandhu tunnel, the foreign investment will increase in Chattogram and industrialization will be expanded up to south Chattogram?
Ans: The Bangabandhu tunnel will create new avenues for investment beyond the river's southern bank. It will widen the scope for industrialisation and tourism across the south-eastern region. In the wake of the increased connectivity, the economic scene in Anwara upazila and Karnaphuli upazila has started to change, thanks to a number of business initiatives. Several organisations from home and abroad have expressed interest in investing in the Korean Export Processing Zone and the under-construction Chinese Export Processing Zone. Overall investment will increase in the region but it needs to create allied infrastructure of roads, industrial zones, hospitals, education institutions, etc. to ensure livability in the area. It is important that a zoning plan is there and implemented from now on only to create open spaces and other utilities as in a city.
4: Can the elevated expressway, Chattogram ring road and the Bangabandhu tunnel change the communication system?
Ans: The communication link from the three projects will reduce traffic congestion of the port city and allow faster and smoother movement of people and goods. There needs to be more investment in the city as still there are many areas where new flyovers and wider roads are needed. We need an improvement in our mindset to design and manage roads for a smooth movement of people and goods. We create infrastructure but many a time we are not able to manage and operate them at international levels. For example, there is no traffic signal in the city which is so surprising. The marine drive on a regular basis is closed on one side with people randomly crossing, vehicles taking the wrong route, no street lights, etc. Even on the flyovers sometimes you see a small vehicle coming on from the opposite site. We need to have more civic sense and traffic police, instead of managing intersections due to lack of signals. We also should be spending more quality time in implementing basic rules on the newly-constructed infrastructure. Even basic things like managing rainwater on the elevated roads is ignored and you see big splashes of water falling on vehicles from the top, only because the drainage is not developed or maintained properly. All these infrastructure projects are a big boost to Chattogram but we can obtain the full benefit when we all can improve our civic sense.
Credit goes to the government for envisioning such projects and in the long term these will benefit the city. Such development will boost the economic growth of the country and give local companies a chance to enhance their skills and quality and support such projects with international-standard products and services.