Yet another example is set that anything and everything is possible if desire and deeds roll on towards the goal no matter whatever headwinds blow. After the Padma bridge coming into a rare reality, the opening of Mass Rapid Transit Line 6 (MRT 6) indeed comes as such an example of navigating umpteen odds as the first metro-rail project in Bangladesh has to overcome variegated challenges, like conflicts, obstructions, non-cooperation from different quarters, to come to the current stage in 14 years now.
Only determination on part of the government to build the first metro corridor of 21.26 kilometres from Uttara to Kamalapur has brought the success in readying the first phase of the MRT 6 for overhead trains to roll from Thursday.
However, its full-fledged operation from Uttara to Agargaon, touching all nine stations, would not be possible from day one. It takes few more months to operate trains from morning to night with the staff of the Dhaka Mass Transit Company Ltd (DMTCL).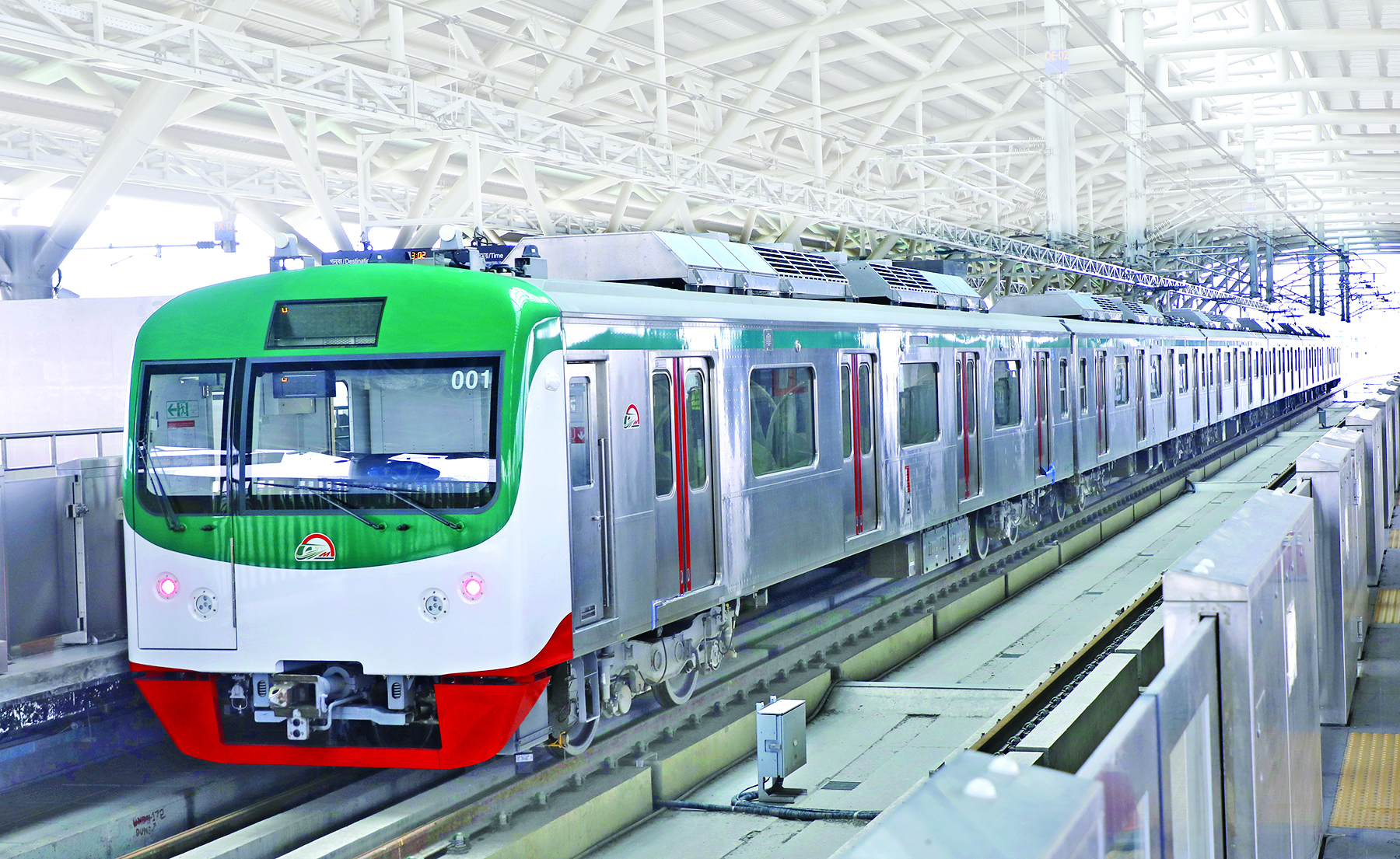 But hope is there that MRT train may operate along the first 11.73 km of the MRT 6 in next three to four months, and thereafter, up to Motijheel by the end of next year. The full-length run will enable commuting thousands of passengers per hour, giving the city-dwellers a new taste of modern-day mass transportation. In the case of easing chronic traffic congestion with easy movement of commuters, more time will be needed for integrating other modes of transport, including buses, with different stations to facilitate faster mobility and availability of desired transports at hand.
Memorable moment: The city people are set to taste a new taste in their trip even though the launch of the MRT 6 is taking place on a limited scale. An enthusiasm has been created among majority riders about experiencing fast metro journey in this city of perennial road-traffic agonies. This enthusiasm is also reflected in the inaugural function. The Ministry of Road Transport and Bridges organises the launching ceremony of the metro rail today (December 28) near the MRT 6's Uttara north station at Diabari with a festive mood.
Initially planned to organize a closed- door event with invitees, the ministry has opened the inaugural event with a public gathering in a field at Uttara-sector 15. More than 3,000 invitees, from cabinet members, members of parliament, diplomats and high officials to political leaders and civil-society members, are joining the gala event.
Prime Minister Sheikh Hasina is also to give a diversion to the occasion-she is set to give the go to the first train by waving the green flag just like a train operates daily. She will ride a train from Uttara north station and move towards Agargaon station taking limited guests with her.
The PM will be the first passenger to buy MRT Pass, the IC ticket which is sold exclusively for MRT ride now.
New taste in urban transport: Public interest in metro rail has been raised during the construction stage although they faced unbearable pain at different points of the corridor since 2017-18. As the MRT-6 corridor is selected from existing built-up road corridor to connect city's northern part with southern part, traffic management was also most challenging job for the project office. The highest-frequency bus operation is done through this corridor. People's suffering turned for the worse for this reason.
But initial-stage protest has gradually turned into enthusiasm among people when they started believing the city is going to have metro rail today or tomorrow. It will help them to cross the corridor faster than on other modes of vehicles.
Also, the MRT is going to add a modern taste to riding in a clean and wide space inside all station platforms and trains. This is to introduce first-ever electronic train as well as track without ballast and sleeper. The common scene of crowd to buy train tickets would not be found in the case of metro rail due to establishment of ticket-vending machine and ticket-office machines as well as counters with facilities of top-up amount in the MRT pass.
The toilet facilities for men and women at platform, including for physically challenged people, are there. Both visually impaired and wheelchair people can move in the platform area independently.
The MRT also addresses the issue of noise pollution by setting up Mass Spring System at three points mainly to keep sound level lower at Mirpur DOHS, Farmgate and Shahbagh.
It is claimed that the corridor is expected to save travel- time cost and vehicle -operation cost equivalent to Tk 838 million and Tk 118 million respectively through a study. The study done earlier in 2015 under the MRT 6 shows that Mirpur road, Airport road and Rokeya Sarani etc areas have lost its mobility due to increased trip generation and passenger-car unit (PCU) which crossed maximum limit during the peak hours. However, after so many years, waiting time which was found 10 minutes on average at different crossings has increased significantly, indicating saving cost of travel time and vehicle operation more than initially estimated.
14 years to complete half the corridor: Being the maiden MRT, it took long 14 years to reach the present stage of inauguration of part of the 20.26-km MRT 6. The project faced challenges, not only obstruction and protest by different quarters, but also done through Holey Artisan-like incident which led to exit of the Japanese consultants, contractors feeling insecure. The coronavirus pandemic also elapsed almost a year to bring the desired 24 sets of train from Japan.
Proposal on MRT was placed first in the 20-year-long transport policy titled Strategic Transport Plan (STP) which was ready in 2005. But its first approval took four more years. The first caretaker government approved it in 2007 and later the present Awami League government in 2009 after coming in power. This approval led the initiative to conduct studies on the MRT 6 first due to finding its corridor straight and high ridership.
Japan International Cooperation Agency (JICA) first came forward with the proposal to review the STP. Under the study, titled Dhaka Urban Transport Network Development (DHUTS), journey of the MRT 6 started in 2010. However, finalizing the alignment took two more years as Air Force, Bangladesh Army, Bangabandhu Sheikh Mujib Medical University and Dhaka University objected to the elevated track crossing places in front of respective areas.
After consultations, motivation and even lobbying respective authorities concerned, problems of alignment could be resolved. Upon the JICA recommendation, the government confirmed the alignment by taking approval from the cabinet in 2013.
But more time elapsed afterwards for allowing construction of big infrastructures like Hanif flyover and diverting route of Dhaka Elevated Expressway towards Farmgate and Sonargaon crossing which forced the MRT to change in design.
Is MRT fare high? Though the Dhaka Transport Coordination Authority (DTCA) fixes the fares considering the per-capita income, there is lack of knowledge on fixation of MRT fares. The DTCA committee formed as per the Metro Rail Act 2015 to work on this took pretty long to propose fares. However, the fare chart approved by the ministry concerned faces criticism as it tried to lower amount of huge subsidy from collection of fare. As the DMTCL took initiative late to raise its income from non-operational sectors, including station plaza, transit-oriented development, huge operational cost is tried to manage from fares. It took quite a long time to increase the income of DMTCL from other sources due to the delay.
Lesson learn for better management of upcoming MRTs: Under the revised STP formulated in 2015, development of six MRT corridors has been proposed to set up a network. After facing criticism why the first MRT was not built underground, the DMTCL studied building five others in both elevated and underground forms. But experts apprehend facing more challenges in developing the five more corridors for not addressing issues faced in the MRT 6. Apart from timely planning of business model, the MRT 6 lacks adequate space for pedestrian movement in almost all stations due to allowing illegal occupation of footpaths, roads and building illegal infrastructures beyond the RSTP.
Besides, experts opine for avoiding delay in recruitment of necessary manpower for the dedicated metro-rail company and timely training which caused the delay in implementing the MRT 6.
This MRT is going to be launched without readying the security force, with the government having decided to form MRT police as a new unit of the police.