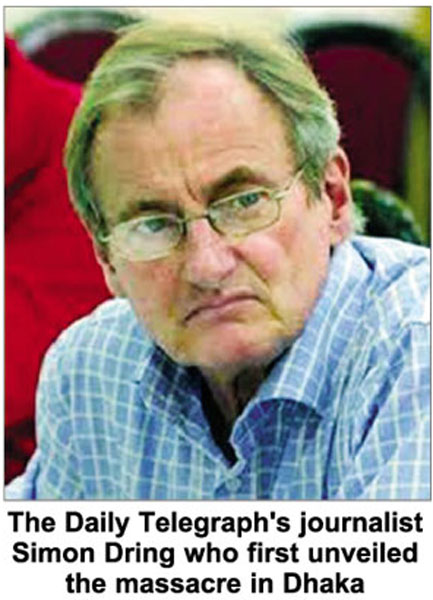 In the second week of March, 1971, Yahya Khan arrived in Dhaka for discussions with Sheikh Mujibur Rahman. A few days later Bhutto joined them but the talks were not making progress. They would not. Yahya, Bhutto and the military top brass had already resolved in Larkana to kill three million of us so that the rest of us would eat out of their hands. The talks were only a ploy to assist the troop build up and the airlift from West Pakistan. Mujib knew that the talks were not sincere and if anything, it was a public relations exercise for the people of West Pakistan so that Yahya and Bhutto could tell them that their best efforts had failed because of Mujib's and Awami League's intransigence. On March 23, Pakistan's Republic Day, Sheikh Mujibur Rahman hoisted the new Bangladesh flag at his residence. Later that day, he went to meet Yahya and Bhutto with the Bangladesh flag and a black flag fluttering in his car.
On March 25, Yahya Khan left Dhaka surreptitiously in the afternoon. Within 30 minutes of his departure, Sheikh Mujibur Rahman was informed about it by Group Captain Khandakar, who was then working in the air force base in Dhaka. Mujib knew what was coming and decided not to run or avoid arrest, but he instructed his colleagues to leave Dhaka and organise resistance. Till the last minute, Tajuddin Ahmed, the General Secretary of Awami League, wanted him to sign certain declarations and documents but he declined. He knew that once the Pakistanis arrested him, he would be tried for treason, the penalty for which was death, so he did not want to leave behind any document that could be used against him as evidence.
As news of Yahya Khan's departure spread throughout the city, people could somehow intuit that an army crackdown was comings [The instructions for the army were to start the crackdown after Yahya Khan's plane landed in Karachi which would be after midnight in East Pakistan. In order to reach their targets the army moved in to the city around 10:30 p.m.]. This immediately triggered a frenzy of activity in every neighbourhood of Dhaka a. People started putting up barricades on all major intersections and crossings with whatever they could lay their hands on. Felled trees, forty gallon oil drums and other debris were piled on the roads. In some places, people brought bricks and other construction materials and stacked them in the middle of the road. Although the effort was valiant, in real terms, a determined army would have no difficulty removing these road blocks. Around 7:30 p.m., I reached Farm Gate and witnessed all that was going on. I was getting a queasy feeling that it may not be safe to hang around in this major intersection for long. Around 8:00 p.m. I decided to go home, a stone's throw from Farm Gate.
The family still hadn't had their dinner and I could see the relief in my parent's faces when they saw me. In the past month, no one knew when I went out or came in. My parents were worried about me and my mother did her best to protect me from my father's tongue lashings. Around 11 o'clock, we heard the first gunshots. What was happening? Obviously, one couldn't go out. We were concerned about my uncle (my father's younger brother) and his family who lived in Road 31, Dhanmondi. His home shared a common boundary wall with Sheikh Mujibur Rahman's residence. We tried to call him but the phone lines were dead. Within a few minutes, the firing got really intense and now there was a continuous clattering of automatic weapons with periodic booms of large explosions (Also in action were tanks, recoilless rifles and mortars). It sounded like we were in a war zone. I had never heard anything like this before. The family huddled together in the middle of the house away from windows. The fear in everyone's eyes was visible. No one spoke. The only voices were of my mother and sister reciting verses from the Quran. Then, someone remembered we had a Bangladeshi flag on our roof! I had put it up a couple of days ago. Almost every house in Dhaka had one or more. Who was going to bring it down? I volunteered and went up to the roof of our one-storied building.
The night sky was lit up by tracers and there was an amber glow all around [In 1971, there weren't any high rise buildings in the neighborhood and one could see the Tejgaon rail station and Farm Gate from our roof]. The thatched shops of Kawranbazar, the shanties beside the railroad tracks in Tejgaon and Nakhalpara had been set ablaze by flamethrowers. When the residents scrambled out to seek safety, they were mowed down by machine guns. I could hear tank tracks from the Farm Gate area and could make out tank silhouettes [Bhutto was still in town and witnessed the mayhem from his hotel room while he sipped whisky]. With great trepidation, I retrieved the flag. When I came down, my father ordered me to destroy the flag immediately. This was our flag and I couldn't bring myself to desecrate it but this was no time to get into an argument. So, I told him I would do as told. Without anyone's knowledge, I folded the flag neatly, put it inside a plastic bag and hid it in the water tank on the roof. [Many months later, after Bangladesh was liberated and I had returned home, I retrieved my flag].
Nobody slept that night. From time to time we'd peep out the windows. Outside, it was deserted. All doors and windows in every house were tightly shut. The air became acrid with gunpowder odor. There was no respite from the firing and explosions. Sometime in the early hours of the morning, a military jeep entered our lane and pulled up at our gate. We feared the worst but no one got down. It was just prowling and went away after a while. The firing decreased somewhat by daybreak but intermittent gunfire could still be heard.
Cautiously, I went up to the roof again. There were several plumes of smoke spiraling towards the sky. Dhaka looked like a bombed out city. Farm Gate was empty [The previous night the army declared curfew and soldiers were ordered to shoot on sight anyone who stepped outside]. Occasionally, a military vehicle would speed by. Most military vehicles had machine guns mounted on them and the soldiers were in full battle gear. I scanned the neighborhood for any sign of people. I could see no one and came down.
All India Radio reported the crackdown but details were sketchy. They mentioned that Sheikh Mujibur Rahman was alive and he was still a free man in hiding [In fact, Sheikh Mujibur Rahman was arrested at midnight]. Around 7:30 in the morning Dhaka radio came on air. For the past few days it had been calling itself Dhaka Betar but this morning it went back to its original call sign 'Radio Pakistan, Dhaka'. It did not have any news and was playing martial songs and blaring out martial law regulations and instructions. An announcement was made that Lieutenant General Tikka Khan, Yahya Khan's Governor designate for East Pakistan, would be sworn in by the Chief Justice of the Dhaka High Court. Earlier the Chief Justice, Justice B. A. Siddiky, had refused to administer the oath.
Later in the day, it was announced that Yahya Khan would address the nation in the evening. Throughout the day, we fiddled with the radio dial searching for news. Almost all international radio news including BBC and the Voice of America reported the crackdown but gave no details. They all seemed to have picked up the story from All India Radio. The international media did not have reporters on the ground in East Pakistan. Just before the Pakistan Army launched their infamous "Operation Searchlight" on the night of March 25, they interned some 200 foreign journalists at the Intercontinental Hotel. On the morning of March 26, all of them were driven to the airport and expelled so that they could not see the army's bloody handiwork and on that scale. However, three, Simon Dring, Arnold Zeitlin and Michael Laurent, escaped the dragnet. At the risk of their lives they hid in the lobby, kitchen, laundry, and even in the roof; moving from location to the other for the 32 hours of curfew. On the morning of March 27 when curfew was lifted, Dring, a war correspondent of the Daily Telegraph of London, went out and saw the gruesome killings at Dhaka University's Iqbal Hall, Rajarbagh Police Lines and certain parts of old Dhaka. He took pictures of what he saw. He reached London shortly afterwards and his report with pictures came out in The Daily Telegraph on 30 March, 1971. Anthony Mascarenhas of The Dawn arrived in Dhaka from West Pakistan sometime later in an army approved journalists' tour of East Pakistan who were to gloss over the army's actions. Their reports were not supposed to show the butchers of Bangladesh in bad light. Mascarenhas however made his own investigations. After reaching Karachi, he first sent his family out of Pakistan and then he left. Mascarenhas' story was published in the Sunday Times of London. (He later wrote the much acclaimed book The Rape of Bangladesh published by Vikas of Delhi in 1972.) Dring's and Mascarenhas' reports were the first documentation of the genocide in Bangladesh.
In the evening, Yahya Khan came on the radio and branded Sheikh Mujibur Rahman and the Awami League as traitors and enemies of Pakistan. If any one had any doubts about the intent of the Pakistan Army, Yahya's speech spelled it out in no uncertain terms that from now on East Pakistan would be under strict military rule. The army could not be criticised and it could do whatever it pleased; its authority was supreme. It could kill, maim, detain or do anything to anyone in East Pakistan 'for the sake of national integrity and security' (The message was couched in euphemisms).
On March 27, curfew was lifted for a couple of hours to allow people to gather provisions. The phones were still dead. We had no news of family members who lived all over Dhaka. Of immediate concern were my uncle and his family in Dhanmondi. My father decided that we would first check on him and then try and get whatever provisions we could and then go to my grandmother's in Khaje Dewan.
We piled into the car with my father at the wheel. As we crossed Farm Gate, we saw several dead bodies littered on the streets, like dead animals. Two were dangling from a rickshaw near Holy Cross College. Nearby, a contingent of soldiers stood overlooking the traumatised civilians with stern demeanor. They looked tired from the gory killings of the past two nights. Sanitary trucks of Dhaka Municipality were picking up the corpses. Nobody spoke in the car. It did not take us long to reach Road 31.
They were a stunned lot at my uncle's. On the night of March 25/26, soldiers entered their compound and ran through the lawn and went over the wall to enter Sheikh Mujibur Rahman's residence. There was indiscriminate shooting and many bullets hit the house. The family practically hugged the floor for much of the night. We saw bullet marks in the verandah. After seeing that his brother and his family were physically unhurt, my father started to worry about the others; everyone had to be accounted for. The curfew break was a very small window, just a few hours, so he and my uncle went off to procure provisions. No saying how long this would last. As soon as they left, I told my mother I was going out for a short while. She didn't want me to go but she knew she couldn't hold me back. So, she told me to be careful, fearful that I would get into trouble.
Dhaka was a city in panic and nobody knew if any area was safe. People bore blank expressions and looked shocked and scared. Many were leaving their homes to go to another neighborhood with whatever they could carry on them. The area they vacated had other people moving in. Many were leaving Dhaka for the countryside.
The piece is excerpted from A Qayyum Khan's book titled 'Bittersweet Victory: A Freedom Fighter's Tale' (University Press Ltd, Dhaka; 2013)