---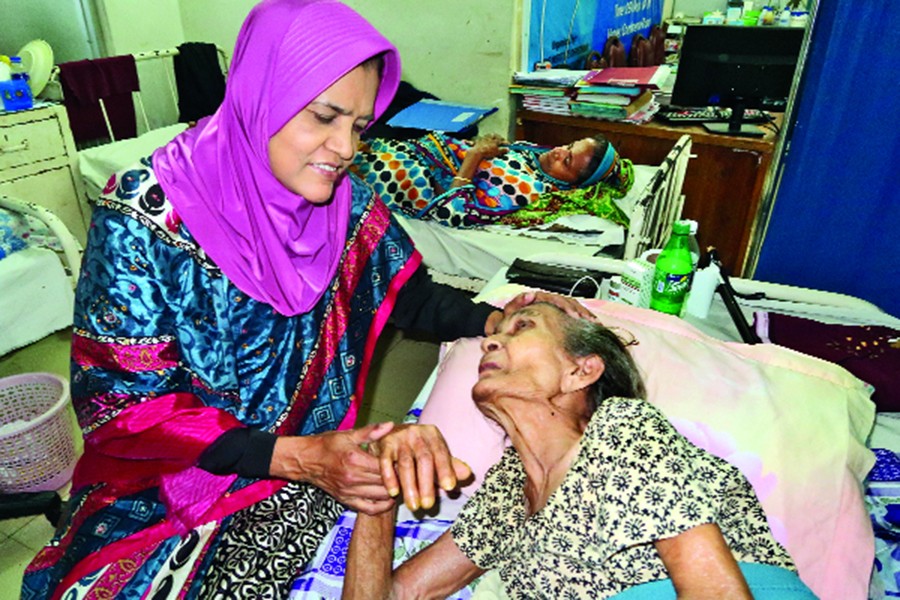 Dr Sayeba Akhter is taking care of a patient — FE Photo
Aklima Begum (Pseudonym), a 24-year-old poor village woman, totally broke down after her husband and family refused to let her stay with them at home. Due to frequent leaking of urine, she was living a horrible life. Bad odour made her life miserable. She was unsure about recovery from her childbirth injuries. Medical term of her disease is 'obstructive fistula'.
"I was feeling helpless. The problem arises after birth of my child. A local 'dai' was involved in the delivery process at home," she said while talking to the FE.
Professor Dr Sayeba Akhter, renowned gynecologist in Bangladesh, appeared as an angel for Aklima. She treated Aklima's obstructive fistula free-of cost that involved a surgery also.
"My life has changed after the surgery. I am now working at the institute of Dr Sayeba and getting monthly salary," she said.
The MAMM's Institute of Fistula and Women's Health (MIFWOH) of Dr Sayeba Akter has a total of 25 beds where poor obstructive fistula patients are getting free-of-cost treatment.
Dr Sayeba has also developed her own method which is called 'Sayeba's Method' through which post-partum hemorrhage can be stopped at a cost less than Tk 100. It is a life-threatening complication in maternal health.
Dr Sayeba is honoured nationally with the Ekushey Padak- 2020 for her invention and overall contribution to women's health.
Dr Sayeba is the president of the International Society of Obstetric Fistula. She also received a number of fellowships and awards from different countries across the world.
Her contributions to minimizing obstructive fistula and stopping post-partum hemorrhage have helped many women at home and aboard to go back to their normal life.
"I opened the institute in 2012 with seven beds after retirement spending my provident fund money," Dr Sayeba said.
Dr Sayeba started working for maternal health from the early stage of her career. She worked at Mitford Hospital, Barisal Medical College and Hospital and Bangabandhu Sheikh Mujib Hospital treating many of the poor patients suffering from fistula and the life-threatening post-partum hemorrhage.
"An 18-year-old girl died due to bleeding after delivery due to post-partum hemorrhage. I wept whole night for her and started exploring ways to find out a method for saving maternal life," she said.
Then an idea clicked in my mind. I started using condoms to push saline water inside it to stop the hemorrhage and it worked wonderfully, she added.
Some 15 countries across the world have been following Dr Sayeba Akhter's method to save lives of women after delivery.
To repair obstetric fistula, she also opened the 'National Fistula Centre' at Dhaka Medical College Hospital,
Dr Sayeba said United Nations Population Fund or UNFPA is supporting the country to eradicate women's obstetric fistula.
"We are also getting voluntary support of other surgeons for free-of-cost women's fistula treatment," she said.
Recently, the non-banking financial institution IDLC Finance Limited came forward with support for fistula treatment under its Corporate Social Responsibility.
"Allocation of the government as well as support from corporate bodies under their CSR is required for free-of-cost treatment of fistula for poor women," she said.
The government has adopted the national strategy for obstetric fistula 2017-2022 in line with the global Sustainable Development Goal (SDG) to eradicate Obstetric Fistula by 2030.
Dr Md Zulqarnine Ibne Noman, research associate of the Fistula Project under UNFPA, said on an average some 0.1 million women face the obstetric fistula but less than 600 get access to treatment annually.
"The number of such patients is increasing by 1000 every year," he said.
Most of the patients are out of the government's social safety net and they do not get any allowance as senior citizens or widows, he said.
According to UNFPA, obstetric fistula is one of the most severe and tragic childbirth injuries affecting an estimated 72,000 women across Bangladesh.
It is a childbirth injury caused by prolonged and obstructed labour without treatment. It leads to a hole between the birth canal and bladder or rectum. It leaves women leaking urine or faeces or both, and often leads to chronic medical problems, depression, social isolation and deepening poverty.
There is some dedicated fistula operation teams at different medical college hospitals in Bangladesh. Tracing the obstetric fistula patients for treatment and their rehabilitation after treatment are very important. Those poor women hardly visit doctors and feel shy to share their problems. They also need to visit psychiatrists to overcome the trauma.