---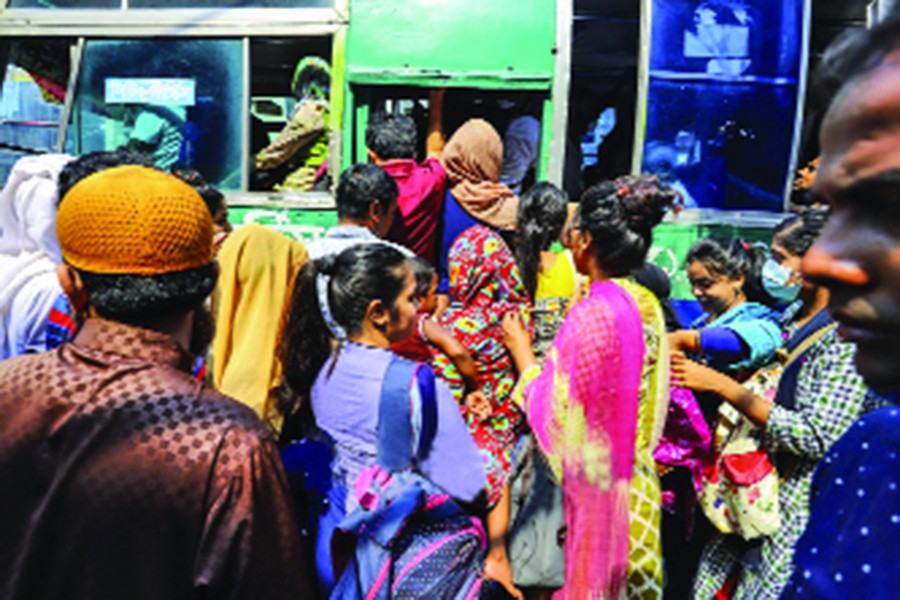 Public transport in Dhaka gives women nightmarish experiences — bdnews24.com
Few days ago, rape of a Dhaka University student at Kurmitola in the early evening by a roadside vagabond shocked the country putting them in a state of disbelief how a man like him can rape a university student just dragging her away from the walkway. That footpath of the airport road is less used by the commuters. I think there was less lighting too with no visible security arrangements for the citizens and particularly for women.
A young female garment worker got on the office staff bus at 4:00 o'clock in the morning to reach her workplace timely. She was alone on the bus in that early morning. The driver found it a quite appropriate moment to rape that girl, kill and throw her body onto the roadside. When she did not come back home at a specific time in the evening, her family members filed a GD. When the police asked the rapist and killer driver, he still denied that she was on the bus in the morning.
When I am writing this piece, the global report issued in the context of the Generation Equality campaign and to mark the 25th anniversary of the Beijing Declaration and Platform for Action for protecting women's and girls' rights is in my hand. The report titled 'A New Era for Girls: Taking stock on 25 years of progress' notes that the number of out-of-school girls globally has dropped by 79 million in the last two decades. In fact, girls became more likely to be in secondary school than boys in just the last decade. Yet, violence against women and girls is still common. Globally an astonishing one in every 20 girls aged 15-19 - around 13 million in total - has experienced rape in their lifetime, one of the most violent forms of sexual abuse women and girls can suffer. Bangladesh, like the rest of the world, has also witnessed this negative trend despite positive leaps in education, nutrition, child and maternal mortality rates. Multiple Indicator Cluster Survey (MICS) 2019 also found that 37 per cent of adolescent girls from the age group of 15-19 years do not feel safe while commuting alone after dark.
It is pertinent to mention the comment of UNICEF Executive Director Henrietta Fore on that report.
"Twenty-five years ago, the world's governments made a commitment to women and girls, but they have only made partial good on that promise. While the world has mustered the political will to send many girls to school, it has come up embarrassingly short on equipping them with the skills and support they need not only to shape their own destinies but to live in safety and dignity," she said.
Girls today are at a startling risk of violence in every space - both online and in the classroom, home and community - leading to physical, psychological and social consequences, the report said.
Women are often abused physically, sexually, verbally on the roads, in their own communities, on public transports and in open spaces. The alarming thing is the negative trend like violence against women is increasing in Bangladesh competing with the so-called economic development and women's empowerment. I find some women are considered to be empowered with their social status or some backup support they get from men. A woman cannot be safe and equipped enough to think she is safe alone in this country. The main reason is absence of rule of law, remedial action and justice.
In 2017, Dhaka was ranked the 7th worst megacity for women in an international perception poll, conducted by Thomson Reuters Foundation.
The poll panel assessed safety and security of women in 19 megacities under four criteria-sexual violence, access to healthcare, cultural practices and economic opportunities. In the poll, Cairo stood first, followed by Karachi, Kinshasa and New Delhi. The capital of Bangladesh was ranked the 3rd most dangerous city for women due to harmful cultural practices against them, like child and forced marriage and female genital mutilation, 4th worst in terms of sexual violence, including rape or sexual attacks and harassment against women and 12th in two other criteria-access to healthcare and economic opportunities.
In sharing her experience of feeling safe, women rights activist Aparajita Sangita said she went to Kathmandu to celebrate New Year's eve. There were thousands of people on the streets of Kathmandu. But there was not a single bad touch. No man tried to intentionally push any woman in that huge crowd. No one ever commented on my dress. There was respect for each other which is absent in Bangladesh for women. But here verbal abuse starts from religious point of view and ends up in something else like judging a girl or woman by her outfit and look.
Sangita noted that the unfavourable environment for women that prevails in the society, especially with the mindset leading to maltreatment, harassment and abuse on the streets, transport, in crowds, public places and even in families. This must be changed with strict enforcement of laws.
It is a reality too that no law enforcing agencies come to any help immediately after any occurrence and take action in favour of the victim woman, rather they harass the woman who seeks help.
Urban expert planner Adil Mohammed Khan relates women's safety in a city to its infrastructure. Experts say cities are largely designed from a man's perspective. There is a growing gender gap across the world that must be addressed - including in emerging market cities - and the infrastructure sector will need to play a key role.
Women do not feel safe in their cities. Research from the US shows that around two-thirds of women have experienced some forms of sexual harassment in public spaces in their lifetime. More than half the women in Guatemala City say they feel unsafe walking alone in public spaces during the day. The way infrastructure is planned and maintained has a lot to do with that.
Richard Threlfall, Global Head of Infrastructure, KPMG International, Kathryn Travers, Former Executive Director, Women in Cities International, and Laura Capobianco, Policy Advisor for Safe Public Spaces and UN Women's Safe Cities and Safe Public Spaces, Global Flagship Initiative, said poorly planned infrastructure can actually create opportunities for violence against women and has a direct impact on whether a woman or girl feels safe in their surroundings. It's not just about installing good lighting and removing dilapidated buildings; women and girls often cite things like uneven pathways, a lack of visible sightlines in parks and alleyways, and poorly maintained public spaces like parking lots and public toilets as elements that signal the space may not be safe for them.
It is important particularly in case of growing cities of the emerging markets like Bangladesh. Rapid (and often unregulated) development and expansion have created some chaotic and unsafe environment. In those places where planning is rigorous, decision-makers are often more focused on achieving the lowest cost than addressing the gender gap. Existing assets are operating beyond capacity and that is creating a street-level competition for public services; women and girls are often left behind.
It is a matter of sheer dismay that Bangladesh government and the overall society in particular has failed to create a safe place and environment for their girls, women and even girl children. It depends on the political commitment to establish rule of law and social justice and how a state will advance by including half of its population. The authorities here still cannot work independently, not even the law enforcers who are often influenced by various quarters, money and muscle power. These practices are mostly hindering the process to establish a healthy and safe Bangladesh for women.
Another factor is greed and lack of responsibility of the public servants. City corporations wanted to install CCTV and LED lights as part of making the city safe. But the project still has not been implemented as the police have separated the CCTV part from the project which is shocking. At least two flyovers still plunge into darkness at night just because of lack of coordination and sincerity to work to make the city better by the authority. On this 2020 International Women's Day, with the theme being 'An equal world is an enabled world', I wish an end to all sorts of discrimination, malpractice, bad attitude towards women which act as an obstacle to making Bangladesh safe for women.