The women are doing better as leaders in many challenging professions these days because of the change of attitude in bureaucracy and society as well, said Shaheen Akhter, income tax member of the National Board of Revenue (NBR).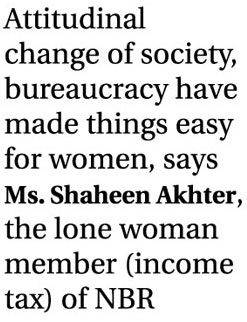 As professional world is now more accommodative than before more and more women are taking up the challenging jobs in many areas, including public finance and taxation, she said in an interview with the FE on the occasion of the International Women's Day.
Ms. Akhter is the only women now holding the position of Member in the income tax wing of the NBR. She is overseeing the international taxes affairs of the income tax department.
In her 31-year long career in taxation, Ms Shaheen took a number of steps to mobilise government's internal resources, check tax evasion and ensure good governance in the tax administration.
"Women leadership is now widely accepted in the different sectors. Our head of the government, Prime Minister Sheikh Hasina, has taken several measures to ensure participation of women workforce in major areas of the economy," she said
Participation of women in income tax department has increased significantly in recent times, she added.
Currently, some four tax zones, out of 31 across the country, have female commissioners, he added.
"As a tax official, I have to face several challenges to mobilise the government's due tax revenue," she said.
She has frozen bank accounts of influential quarters following detection of tax evasion by them. The National Board of Revenue (NBR) in recognition of her contribution also offered her awards .
"As a Deputy Commissioner of taxes, I had to scrutinize a number of tax files of the large taxpayers and take penal action against them," she said.
Women should be bold, confident and efficient while discharging their duties to avoid any untoward hassle, Ms Akhter said.
Communication and motivational skill is necessary to help tax officials collect the government's revenue without creating disputes with the taxpayers, she added.
Ms Akhter has chosen her career as tax professional to fulfill the dream of her father Md Syeedur Rahman who was also in the department of taxation. Her husband Md Jamal Hossain is also a former member of VAT wing of the NBR.
She completed post graduation from economics department of the University of Dhaka and joined public service in 1989 in the BCS 8th batch.
"During the last 31 years, I have seen changes in the tax department which is dominated by males," she said.
Due to biological reason, women officials need some social and infrastructural support while doing their duty, she added.
A woman needs maternity leave, breast feeding corners, day care centres, hygienic washroom in her office along with a good working environment, Ms Akhter said.
Family support is also important for a woman to continue with her job, she added.
Society and family have already started getting benefit of economic empowerment of women as they are also sharing the family expenditures, she said.
Good strategies, level of intelligence, proper planning and dedication could help women to reach the leadership position, she said.
She, however, said both female and male workers need to follow the following strategies, Ms Akther said.
Participation of female workforce in the different profession is still poor compared to that of the rates of enrollment in higher education.
Ms Akhter said the family should allow their children, both male and female, choose their own career.
Tax officials' job is a quite challenging as they have to achieve annual revenue collection target set by the government through National Budget.
They have to work under pressure to meet revenue target although it often depends on the country's economic situation, she said.
However, tax officials have to remain vigilant to check tax evasion through auditing tax returns and field inspection, she added.
"It is not an easy task to collect taxes from the hard-earned money of the taxpayers," she said.
According to a collaborative survey of Thomson Reuters and Women in Tax, leaders of tax and accounting organizations should improve gender representation at senior levels and career-advancement opportunities.
The survey shows that to improve gender representation within tax and accounting firms/functions and practices, there needs to be improvement in many of the structural mechanisms of such organizations.
The survey report recommended some actions including ongoing implicit bias training and experiential workshops, provide leadership workshops on how to address bias in group settings for leaders and supervisors, develop "key experiences" for skills development and client interactions for each role (individual contributor/specialist/associate, manager, senior manager, etc.), communicate transparent performance criteria for each level.